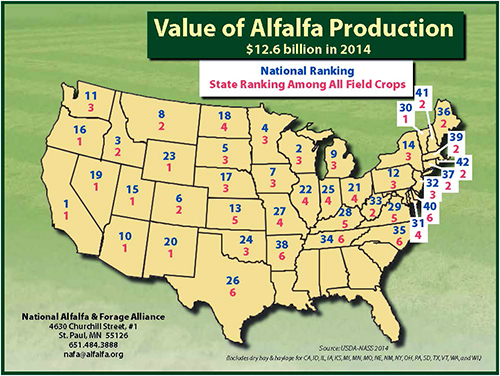 Across U.S., the "queen of forages" is also a king of crops.
Dairy cows love alfalfa, so it's no wonder that demand for it comes overwhelmingly from milk producers. And despite recent years of volatile prices, ebbing acreage, and drought in the West, alfalfa continues to be a huge income source for farmers across the country.
Just how huge was explained at the Western Alfalfa & Forage Symposium on December 2 in Reno, Nev., by Beth Nelson, president of the National Alfalfa & Forage Alliance, who said the total value of alfalfa grown in the U.S. in 2014 was $12.6 billion.
That's a tremendous number, but for even more impact she showed a map of where alfalfa ranks among all field crops in each of the 48 continental states, excluding the Southeast. It was eye-opening.
Alfalfa is the first, second or third most valuable row crop in 27 of them. And in the 11 far-Western states, it is a crop king, ranking first in seven of them and second in three.
Nowhere is alfalfa a bigger financial engine than in California, which leads the country in both harvested acreage and total value. (Idaho is number two and Montana is number three.) However, a long and steep alfalfa-feeding decline is underway in the Golden State.
In 2002, according to the California Department of Food and Agriculture, the average amount of alfalfa fed per head per day to state milk cows was over 13 pounds. In 2014 it was just 8.65 pounds, and in the second quarter of 2015 it was down to 8.05 pounds, according to longtime market analyst Seth Hoyt.
Drought and rising land values are helping to drive down total alfalfa acreage and yield in California, while continued strong export demand is helping to keep prices up and weak milk prices continue to push dairy owners to find substitute forages.
To comment, email your remarks to intel@hoards.com.
(c) Hoard's Dairyman Intel 2015
December 14, 2015