by Amanda Smith, Associate Editor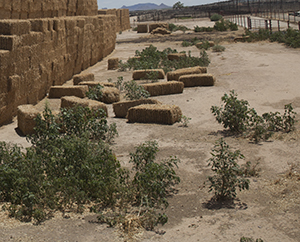 "Drought is not uncommon in California - it happens every summer," noted Thomas Harter when discussing California's past four years of drought.
But California is in the midst of its most significant drought surge since the 1920s and '30s, a time period that coincided with Oklahoma's infamous Dust Bowl.
"The question is whether the current drought is the beginning of something bigger or the end of the flame," added Harter, University of California-Davis, at the Vita Plus Dairy Summit.
In the Central Valley, which is home to the majority of the state's dairy cattle, land subsidence has been renewed. With the drought and the overpumping of groundwater, there has been a gradual settling of the earth's surface due to subsurface clay compaction.
The drought is also shifting the way the state uses water. "As a reaction to our incredible sequence of drought over the past 15 years, California policy has come to a place we didn't think was possible even five years ago," added Harter.
The overarching guidance of these groundwater management policies is to preserve the resource so that future generations can enjoy it as much as residents do today. The policy also notes that there can't be a continuous lowering of water table and reduction of groundwater storage. The intrusion of and water quality degradation from seawater must be minimized, as should land subsidence and surface water depletions.
At this time, nitrate levels in wells are perceived as the biggest threat to groundwater. "Thousands of wells currently exceed the drinking water limits for nitrates," said Harter. "Through manure and fertilizer application, agricultural is one of the most significant contributors to this equation," he continued.
"Currently, the manure from 1.5 million cows is recycled on 500,000 acres. Excess nitrogen leaches out into groundwater," noted Harter.
"If manure is better targeted to meet crop uptake needs, the nitrate level in water can be reduced from 10 times the drinking limit to three to four times the drinking limit, in certain areas. But, if we continue the way we are, more wells will be afflicted, and this is a hard problem to reverse," he noted.
To comment, email your remarks to intel@hoards.com.
(c) Hoard's Dairyman Intel 2015
December 28, 2015