The author is executive director of the Idaho Dairymen's Association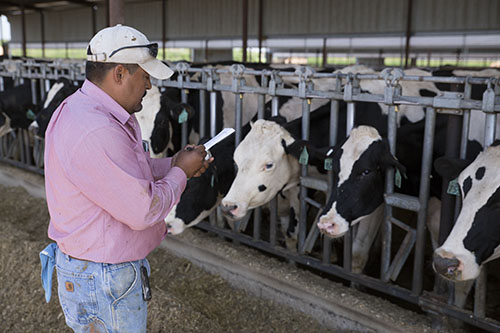 The Idaho dairy industry, and the entire dairy industry for that matter, is becoming more dependent on foreign-born labor both on dairy operations and in dairy processing facilities. Many producers in Idaho and in the West would list labor, and lack of an adequate labor supply, as one of their top concerns, ranking only behind profitability.
The 2016 Presidential Primary has placed immigration and the lack of a functioning immigration program in the spotlight, particularly for the Republican candidates. The rhetoric of some of the top presidential candidates has clearly made the case that our immigration system is broken.
It is essential for the good of agriculture and our country that we develop and put into place functioning immigration laws. Those laws must address our current labor force and our labor needs going into the future.
The demographics of our country clearly demonstrate that we will become increasingly dependent on foreign-born labor in all levels of our workforce. Immigrants will be essential for both filling and creating jobs as our current working age population navigates into retirement. It is critical that our political leaders recognize we lack an adequate American-born labor force to fill the jobs that are currently available.
Our current immigration laws are deportation-focused, and everyone understands they are failing to meet the needs of the businesses, consumers, and society. Some candidates have taken a position that all undocumented immigrants need to be deported, but they fail to put forward the process of how that would be accomplished or at what cost.
According to the American Action Forum, the cost of deporting all undocumented immigrants would take 20 years and would cost between $400 and $600 billion with an additional cost of $1.6 trillion to the U.S. gross domestic product. That would not be a sound fiscal policy for either of our political parties to rally behind. A truly conservative immigration process unifies and strengthens families; it does not force families deeper into the shadows of American society.
Irrefutable demographic changes are influencing the politics, policy, and, fundamentally, the people of the United States. We need an immigration approach that seizes the opportunities these changes offer.
In addition to serving as executive director of the Idaho Dairymen's Association, the author is also on the board of directors for the Agriculture Coalition for Immigration Reform (ACIR) and the National Immigration Reform (NIF), both Washington, D.C.-based immigration reform organizations.
To comment, email your remarks to intel@hoards.com.
(c) Hoard's Dairyman Intel 2016
April 25, 2016