The information below has been supplied by dairy marketers and other industry organizations. It has not been edited, verified or endorsed by Hoard's Dairyman.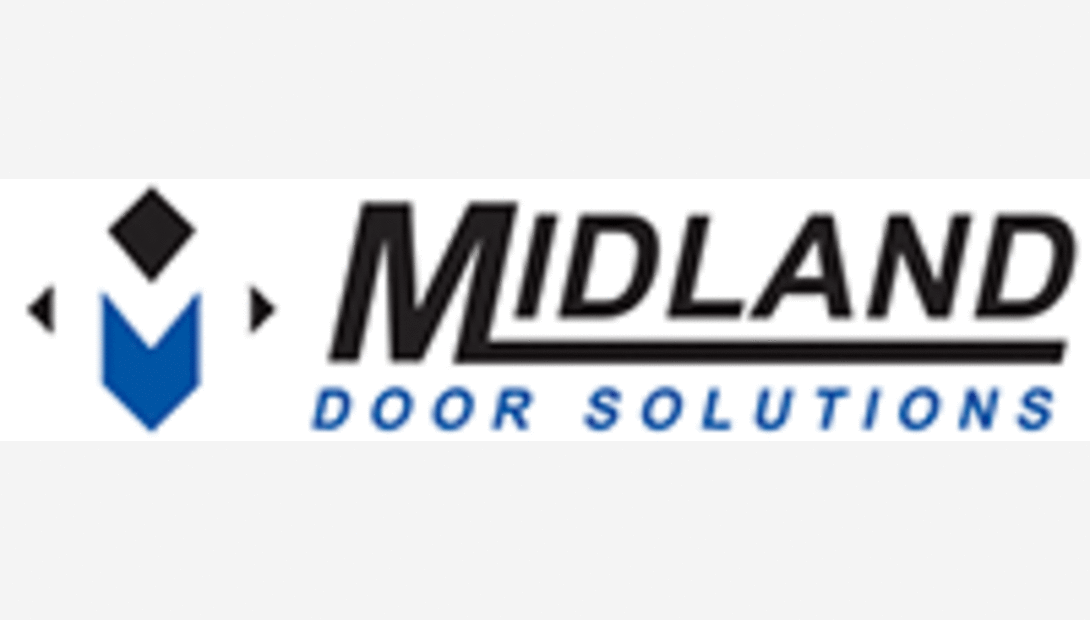 Midland Door Solutions, West Fargo, North Dakota, manufactures and installs durable, long-lasting bi-fold doors for large agricultural, aviation and commercial buildings. The company custom designs each door to fit any new or existing building for safe and easy access. Beyond installation, Midland crews offer continual service to ensure customer needs are met for the lifetime of the door.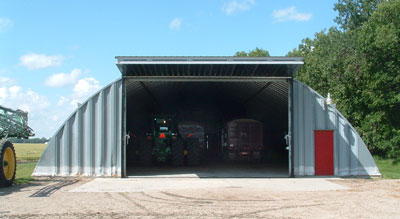 Retrofit an existing building
Midland's bi-fold doors contain heavy-gauge steel tubing and a unique truss system that are jig welded for exceptional strength and durability. The doors do not obscure the building's opening, and equipment can use the full height and width of the doorway when entering or exiting.
A single-latch system with a safety switch comes standard on every door for easy operation. Once closed, users can easily secure the door with one latch in the center rather than one on each end. This saves time, and the safety switch eliminates the risk of damage that can be caused when a user forgets to open both latches. With an optional automatic latch, Midland bi-fold doors can be opened with the push of a button.
Midland designs all of its bi-fold doors to open quickly and safely. The opening system has a 5-to-1 safety rating – the cables and straps that open the door can withstand stress that is five times greater than the weight of the door. Customers can choose a cable, 1/4-inch or larger, or a 3-inch nylon strap that wraps over itself to lift the door.
Depending on the size of the door, power sources with outputs that range from 1.5 to 4 horsepower open the door. Optional integrated safety switches stop the door if anything interferes while it is opening or closing. Midland secures each door section with cold-formed steel hinges that are welded to the door's frame and linked together with 5/8-inch and 3/4-inch cold-formed hinge pins.
Midland doors also provide exceptional protection from the elements. Three types of insulation are available: 3- or 4-inch white-faced blanket, board insulation with 3 inches inside and a 1/2-inch outside, or a 1/2-inch board coupled with 2-1/2 inches of spray foam. A cloth-inserted rubber weather strip provides a 3-inch weather-tight dual-seal on each side of the bottom of every insulated door.
Door colors can be customized to match any building. Door sheeting and trim is available in 26- or 29-gauge ribbed steel, and the interior liner panels also are 29-gauge ribbed steel. Midland paints each doorframe exterior to match the building's trim color.
Midland offers several options for greater convenience and ventilation, as well. For example, a pre-hung walk door offers easy building access without opening the bi-fold door. Walk-doors are available in 24-gauge smooth-panel steel or 28-gauge textured-panel steel. Midland also can install custom-sized and insulated fixed or sliding windows. In addition, a remote control is available to make opening and closing the door more convenient.
Each bi-fold door is built to individual customer specification at Midland's new 40,000-square-foot facility in West Fargo. Midland delivers the doorframe and other components to the customer's site ahead of time to expedite the installation process. Its experienced and well-equipped installation crew lifts each door into place with a telescoping boom forklift, then welds or bolts the doorframe to the building. The crew then applies insulation and steel paneling to the interior and exterior of the doorframe on site. After the installation, Midland remains available for servicing the door to further ensure longevity and smooth operation.
About Midland Door Solutions
Midland Door Solutions is a full-service door manufacturer that designs, builds and installs customized bi-fold and hydraulic doors for agricultural, aviation and commercial buildings. The company also works with architects to develop unique and artistic door designs for specialized applications. For nearly 20 years, it has provided customers durable, high-quality doors and unparalleled customer service. Midland Door Solutions is a sister company to Midland Garage Door Manufacturing Company, West Fargo, North Dakota, a garage door manufacturer that has been delivering garage door solutions to homeowners since 1978. For more information: Midland Door Solutions, 1021 7th St. N.E., West Fargo, N.D., 58078; 800-921-7008; info@midlanddoorsolutions.com.