Yogurt is tasty and healthy according to a recent survey of 500 U.S. consumers between the ages of 18 and 70. Of those surveyed, 52 percent said flavor was the number one driver of their yogurt purchases while 37 percent said health benefits were the motivation for their purchases.
Yogurt has seen a strong influx of consumer support in the last several years in part because of the success of Greek yogurt brands, which according to the survey were the most popular style among adults.
Kids however preferred whole milk yogurt based on the responses of half of the survey participants who had children.
Berry topped the list of preferred yogurt flavors with 61 percent of adults saying it was their favorite while "tropical" flavors were consumed by 45 percent of adult respondents. Vanilla yogurt came in third.
Less popular among consumers, according to the survey, were botanical, floral and vegetable yogurts that were consumed by 8 percent of Gen Xers and 8 percent of baby boomers.
Along with being a popular stand-alone option for health conscious adults and parents, the survey showed 51 percent of respondents used yogurt in beverages and 39 percent used it in dessert preparations.
Additionally, 69 percent of adults said they consumed yogurt in place of an indulgent dessert.
Whether reaching for flavor or reaching for health, yogurt inclusion in consumers' diets is a plus for the dairy case. Continual development of leading flavors will quite likely be an important part of the products future.
---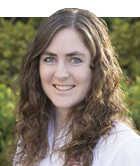 The author is an associate editor. She covers feeding and nutrition, youth activities and heads up the World Dairy Expo Supplement. Maggie was raised on a 150-cow dairy near Valley Center, Kansas, and graduated from Kansas State University with degrees in agricultural communications and animal sciences.