The information below has been supplied by dairy marketers and other industry organizations. It has not been edited, verified or endorsed by Hoard's Dairyman.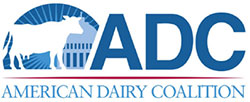 Join us for an informative seminar covering:
Recent modifications to the Margin Protection Program ( MPP)
The new Dairy - RP proposed risk management program supported by ADC
Up-to-date information on the AG Act straight from Capitol Hill
Our expert presenters will provide you with the information you need to get through the rough times our industry is facing.
Central Plains Dairy Expo 2018
Wednesday, March 28
3-5 p.m. CST (Reception Immediately Following)
Sheraton Sioux Falls
Fontanelle Ballroom I & II
RSVP Here. RSVP Required. All Farmers, Allied Industry and Press Invited
Meet our Presenters:
Newly Announced!
Stephanie Gadbois
Senior Counsel for Chairman of the House Judiciary Committee, Rep. Bob Goodlatte
"Update on the AG Act - A Reliable Guestworker Visa Program for the Dairy Industry"
Stephanie Gadbois is a Senior Counsel for the U.S. House Judiciary Committee. Stephanie advises Chairman Bob Goodlatte on agricultural guestworker issues and oversees the Committee's appropriations and budget-related activities.
Prior to this role, Stephanie served for five years at the House Appropriations Committee, where she managed aspects of the Department of Agriculture's and Department of Justice's spending accounts. Prior to her work at the House Appropriations Committee, Stephanie served the House Agriculture Committee for seven years under Chairmen Larry Combest and Bob Goodlatte.
During her tenure at the House Agriculture Committee, Stephanie worked on mandatory price reporting, country of origin labeling, disaster assistance, nutrition, animal welfare, and many other issues, including – of course – reform of the H-2A agricultural guestworker program.
Marin Bozic
Assistant Professor in Dairy Foods Marketing Economics in the Department of Applied Economics, University of Minnesota
"Fixes to the Margin Protection Program (MPP) and an Innovative Pathway to a New Customizable Insurance Tool for Dairy Producers"
Learn the differences between the recently improved Margin Protection Program (MPP) and a new proposed risk-management tool, the (Dairy- RP) insurance program. Discover how this customizable insurance tool will help dairy farmers during unexpected declines in milk prices, unexpected declines in milk production, or both.
Mr. Bozic is an expert in U.S. dairy-policy analysis, dairy-risk analysis and demand analysis. He will use his extensive knowledge to enlighten dairy farmers.
Contact us at Info@americandairycoalitioninc.com for more information.
About the American Dairy Coalition
Representing over 30,000 dairy producers throughout the United States. ADC is committed to the growth and expansion of the dairy industry. ADC has been heavily involved in the development and support of legislative solutions that will secure a reliable labor force to milk our nation's cows, and improve safety net tools available to farmers across the country. Learn more about our coalition and membership opportunities by visiting us at www.americandairycoalitioninc.com
Learn More About ADC
About the Central Plains Dairy Expo
The Central Plains Dairy Expo, taking place March 27-29 at the Sanford Premier Center Complex in Sioux Falls, S.D, is an all-dairy show featuring exhibitors showcasing equipment, products and services for all segments of the industry.
Learn More About CPDE