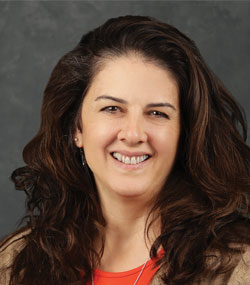 In our part of the country, we don't rely on pivots and canals to water our crops; we look to the sky and wait for the clouds to open up and give us rain.
The downfall of this process is the fact that we don't have any control over the outcome and rain comes in whatever fashion it decides to, no matter what I want or when I am in need. This is true for the weather in each season.
For some occupations, a rainy day means a day off or finding something inside to accomplish. For farmers, a rainy day means you put on a raincoat, a hat, or both and work through it. The calves certainly don't care that it is raining. They want their milk no matter what the weather brings.
The other week it rained 10-plus inches in a short time period. It was unbelievable, and neighbors spent the next several days comparing the number of inches that pounded them in a two day time period. We were all pretty happy because our crops were dry prior to the rainfall, but the rain didn't stop. It kept coming and farmers started complaining about the abundance.
Without a doubt, we have had our fill. The small creek winding through our farm meadow is higher and fuller than we have seen in many years. Our fields are saturated, and even the smallest of showers turns things into a mud bog. The rain will not stop. It keeps coming, day after day, week after week.
I wish I could gather every drop of extra moisture and ship it to other parts of the country because while we are in an excess, there are places that are in a serious deficit. If they don't have access to irrigation, their crop year is a failure and their water supply is in jeopardy.
Some might give a scientific reason why it rains more in one area than in another, but the bottom line is a farmer has no control over that prediction. It rains where it wants to rain in the depth and force that it wants to, with no regard to what farms need.
Of course, the situation wouldn't be any better if we were in charge of turning the spigot on and off. One farmer would have his hay tucked neatly in the barn, and he would turn it on for some moisture. Another farmer would still have alfalfa lying in the fields, and he would turn off the rain.
Rain is critical for our crops. There are parts of the country that are set up for irrigation. Part of me thinks that looks like a dream way to farm; give the crops just the right amount of water at just the right time. And yet, I know there are advantages and disadvantages to both styles.
Our abundant rainfall gives us a lush landscape that holds a beauty all its own. Hopefully, I do not take it for granted as I am looking over the fence at other farms.
It doesn't matter how good, how bad, or how indifferent we are; rain will fall on us. And that's a good thing, right? We need water to survive.
There are years that the pockets of rain are specific. I remember one year that every key rainfall missed our farm, and the dark clouds went around us every time. Our neighbors got rain while our corn leaves curled. Then the next year, the showers of blessings flip and we are the ones getting nourishment for our crops. It isn't a matter of whether someone is living right or living wrong, as we so often joke; rather, it is a part of life of which we have zero control.
Figuratively speaking, there are times that life throws us a storm. The rain comes down faster than we can absorb, and our lives are flooded with circumstances that make it difficult to function.
I just recently heard about a fellow dairy family that is dealing with cancer in their family. Their lives took a turn as they are battling for their son Max's life.
I recall many years ago when those floodwaters were rushing over our family. Soon after our son Robert was diagnosed, I vividly remember thinking how everything I worked for and worried about for the past six months didn't matter. All the stuff I was so focused on did not matter one bit to me. Our family had a new focus and a new goal, and the past problems were insignificant.
Our cancer storm was decades ago but the emotions come back like it was yesterday. When I heard about Max, it put a new perspective in my heart. It reminds me that I need to focus on the controllables and let the uncontrollable situations up to a higher power.
Balance in life is a premium, and accepting it is not always easy, especially during years when balance is not an option and the scales have tipped to survival mode. Rain can turn into a storm and a storm into damaging floodwaters. I think we can all agree that is an accurate metaphorical description of our year.
A slow, steady shower would be welcomed anytime, but until then I will grab my hat and let it rain, let it rain, let it rain.
The author and her husband, Duane, own and operate a 550-cow dairy in Cochranville, Pa.