"The industry, on the demand side, cannot be firing on all cylinders as long as food service continues to be impacted by the pandemic," said Peter Vitaliano, vice president of economic policy at National Milk Producers Federation.
To best prepare for an uncertain year, farmers can look at price and margin forecasts for 2021, plus what risk management tools are available to counter shaky demand and uncertain markets.
What safety nets may go away soon?
It seems unlikely that the direct payments and food box assistance programs that buoyed many farmers during 2020 will be repeated, forecasters said during National Milk Producers Federation's "2021 Price Outlook & Dairy Risk Management." Between just Coronavirus Food Assistance Program (CFAP) 1.0 and 2.0, the government paid $2.83 billion in direct assistance to farmers. From June to October 2020, the USDA purchased 1.7 billion pounds of products, which was 6.5% of U.S. milk production.
An option available today
Though the continuation of these programs in any form isn't yet known, the Dairy Margin Coverage (DMC) program is still available for farmers.
The 2018 Farm Bill authorized the DMC program, and it makes important changes in the safety net for farmers through improving the coverage level up to $9.50 per hundredweight (cwt.). DMC also features a lower premium rate structure, it cut premiums on catastrophic coverage levels for larger producers when compared to its predecessor, and eliminated the restrictions against covering milk through both the DMC program and Livestock Gross Margin (LGM) and Dairy Revenue Protection (DRP) programs.
"The outlook for the margin currently is well below the $9.50 per hundredweight level. Again, as we saw last year, it is not a good idea to make your decision just based on what the outlook looks like. A lot of producers were fooled last year," said Vitaliano.
Feed prices are forecasted to climb next year, while milk prices are forecasted to drop.
"Obviously conditions change . . . they always do, but right now it looks like the forecast is for lower than typical milk prices as we start 2021," said Chris Galen, senior vice president at National Milk Producers Federation. As a result, he encourages producers to enroll or reenroll in the DMC for protection.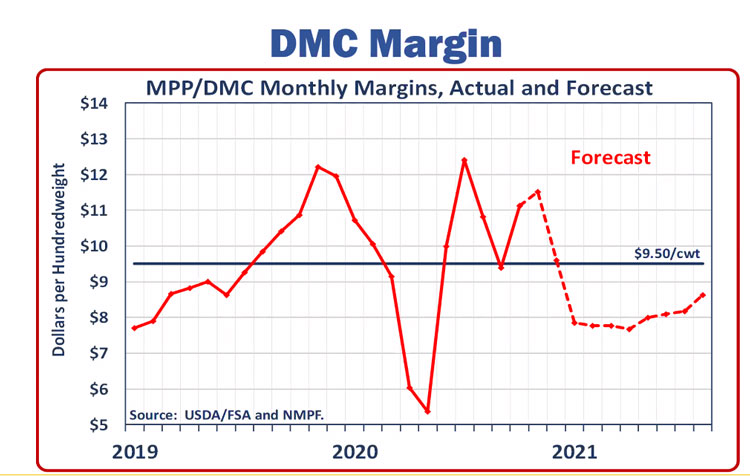 Sign up by December 11
Producers who have not signed up can do so at their local FSA office. Even if producers have signed up for the five year contract, they still need to contact their FSA office, sign their contract, pay a $100 administrative fee, and certify they are a commercial dairy operation. If a local office is understaffed due to COVID, call 877-508-8364. The deadline is December 11, 2020.
"This year, in addition to thinking you should always sign up for this program at the $9.50 level, the forecast further encourages and reinforces that decision," said Vitaliano.
National Milk Producers Federation also offers other risk management information on their web site, nmpf.org.
"This should be useful for folks still trying to determine what their risk management options are as we head into 2021," said Galen.
To comment, email your remarks to intel@hoards.com.
(c) Hoard's Dairyman Intel 2020
December 3, 2020