For only the 18th time in its 84-year history, the Klussendorf Association voted to extend honorary membership to an individual who has gone above and beyond the call of duty to improve the purebred dairy cattle industry. Considered the "Hall of Fame" for North America's dairy cattle exhibitors, Klussendorf members cast a unanimous ballot this April to have Ken Elliott join the prestigious organization.
Like all those who have received the honor before Elliott, the Honorary Klussendorf Award came as a surprise announcement to Ken and his family. The recognition was publicly announced on Friday, April 30, during the Midwest Spring Jersey Show and the Midwest Spring Red and White Show held at the Jefferson County Fairgrounds in Jefferson, Wis. Good friend and fellow Klussendorf member Terry Lee continued the tradition of watching those shows with his good friend Ken, and hence the entire Elliott family was on hand when Abby Bauer began announcing the award recognition.
Afterward, Ken posed with his family for a photo at the Wisconsin Dairy Showcase. Shown from left to right are David and Laura Tressler, Ken and Kathy Elliott, and Amber Elliott. Laura and Amber are Ken and Kathy's daughters.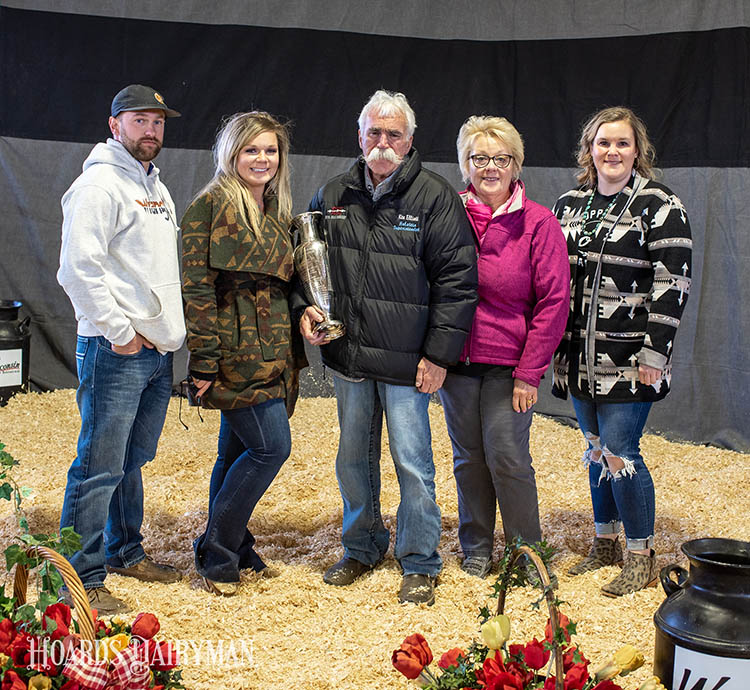 Once walked with living legends
Ken Elliott once worked with living legends and he has now become a living legend. Elliott served as the superintendent of the Holstein show at World Dairy Expo from 2000 to 2019. So expansive was his tenure, he served for four overall breed superintendents: W. Terry Howard, Bob Kaiser, Jim Crowley Jr., and Dave Bollig. In working with the latter two individuals, he not only served as Holstein breed superintendent but as assistant superintendent of the entire cattle show, as well. In fact, this Canadian farm boy has become the second-longest tenured person to serve in that assistant role next to Jim Crowley Jr., the son of legendary "Doc Jim" who was the show's very first breed overall superintendent.
A 1978 graduate from the University of Guelph and its Ridgetown College, Elliott got his start working for Paperman Farm in nearby Woodstock, Ontario, Canada. From there, he went to Doug Wingrove's Allangrove Farm in rural Guelph. Eventually, Wingrove sold his farm and a majority of the herd to Oscar Dupasquier in 1984. The Swiss immigrant, who purchased the Holsteins, went on to claim Premier Breeder seven straight years at World Dairy Expo from 1993 to 1999.
This young Canadian then headed stateside to California's Pacific Coast where he went to work for Ocean View Farms, Windsor, Calif., and Marvin Nunes. One decade later, Elliott and his wife, Kathy, moved their young family to Wisconsin to get out on their own.
Connected to the founders
The Wisconsin farm purchased by this young couple had a number of ties to World Dairy Expo. Ray Kuehl was the realtor for the farm that was previously owned by R. Dale Jones. Kuehl and Jones were another pair of World Dairy Expo initiators. Kuehl was tending to the Crescent Beauty show string the very night Allen Hetts proclaimed to confidants at the Kit Kat Klub in Waterloo, Iowa, "We need a show!" He went on to lay the groundwork for what became World Dairy Expo.
Jones also was an early show organizer and helped convince Canadians to bring show strings to the fledgling event. R. Dale would frequently go up to Canada where he'd meet with the likes of Doug Wingrove, Bert Stewart, and others.
Was it chance or fate that the 18th Honorary Klussendorf winner was eventually chosen to head the Holstein show?
It appears a good dose of fate was involved in the journey.
As many know, Elliott has poured his heart into serving cattle exhibitors as the Holstein breed's superintendent. While all those serving in the breed super roles do an outstanding job, Ken's light shines just a bit brighter.
As World Dairy Expo exhibitors know, the hardest part is stalling the cattle. "Ken Elliott was a master at it," said longtime Red and White superintendent Bill Langel. "He knows everyone from coast to coast."
Carries the heart of an exhibitor
Elliott always took his job one step further because he was both a farmer and a breeder. He knew the time, investment, and passion found in the hearts of dairy cattle exhibitors.
Those who have exhibited at World Dairy Expo also know this . . . once cattle are stalled and checked in, Elliott continually goes through the pavilions, talking to exhibitors and listening to the issues that they bring up. It's at this time he helps out his fellow superintendents with other breeds, too. Elliott is truly a man who enjoys working behind the scenes to provide the best possible experience for all involved.
A bit more about the Klussendorf Award
What began as an effort to memorialize a great man following his untimely death has now transpired into one of the greatest showring and, for that matter, dairy traditions in North America. Named in memory of Arthur Klussendorf, considered the outstanding dairy cattle showman of his time, a beautiful silver trophy designed by Tiffany Jewelers was presented for the first time in 1937.
Only during two historic time periods has the Klussendorf Association not gathered to honor a winner. The first such occurrence took place from 1942 to 1946 when America's and Canada's fighting boys were battling during World War II. And last year, the health pandemic prevented the Klussendorf Association from gathering in person.
While the Klussendorf Association plans to meet this fall, the 27 living members cast a unanimous vote earlier this month to honor an 18th Honorary Klussendorf member this spring. This special honorary recognition is bestowed by the membership to individuals who go above and beyond to improve the purebred dairy cattle industry.
A complete list of past winners can be viewed at the National Dairy Shrine website.
A video presentation of the April 30 award's presentation is found on the Wisconsin Holstein Association Facebook page.
To comment, email your remarks to intel@hoards.com.
(c) Hoard's Dairyman Intel 2021
May 3, 2021