National, regional, and state show honors adorn nearly all of the cows in the 93rd annual Hoard's Dairyman Cow Judging Contest, and these animals represent the best of their breeders' and owners' efforts to cultivate cows that represent the best of their breed. Homebred cows lead the way, including those developed for generations and others resulting from thoughtful investments. Read on to learn about each of the dairy enthusiasts who allowed us to highlight their cows in our contest and the animals that appeared on the covers of our last four issues. Thank you to Kathy DeBruin of Agri-Graphics for visiting each of these farms and photographing the cows.
The Brown Swiss cows hail from Pit-Crew Genetics, a partnership between Eric and Kyle Sonnek, Julie and Tom Foss, and Sarah and Paul Trapp. Collegiate connections and a shared appreciation for a cow they all worked with, Timberline Jetway Toni EX-94, brought the partners together to purchase a daughter of Toni, Milk & Honey Prem Tifany-ET, as a calf in 2005. In fact, the "Pit" of Pit-Crew stands for "partners in Tifany." Today, the group's milking cows are housed at Sonnek Farms in Foreston, Minn., while heifers are raised at the Fosses' in Cambridge, Minn., and the Trapps' in Taylor, Wis. In 2015, Paul Trapp served as the lead judge of the International Brown Swiss Show, and Tom Foss served as his associate.
Few animals have since been purchased by the partnership as they now focus on breeding and developing their own lines. They have bred 35 Excellent cows and 50 Very Good animals, with all but one carrying the Pit-Crew prefix. Show successes over the years have included the Reserve Supreme Champion Heifer at the 2021 World Dairy Expo and many Premier Breeder and Premier Exhibitor banners, including nine of each since 2011 at the Minnesota State Fair. Pit-Crew has had 14 animals designated All-American and 15 named Reserve All-American.
The group's namesake, Tifany EX-93, is the granddam of Cow B in our contest and third dam of Cow D. Both cows were a member of Pit-Crew's 2022 senior best three All-American nomination. Cow D is now owned by Beth Nelson and Aaron Johnson of Ettrick, Wis., and was the reserve All-American 5-year-old in 2022.

Cow A topped her 4-year-old class and was selected as Senior Champion at the Minnesota State Fair last year. At the same show, Cow C was Reserve Intermediate and Reserve Grand Champion. She was the All-American Senior 2-year-old in 2021, a member of the honorable mention All-American Produce of Dam entry in 2022, and has a son in A.I., Pit-Crew Preacher.
The Holsteins are from Heart & Soul Holsteins of Millmont, Pa. The farm was first purchased in 1970, and by 1973, Gerald and Kathy Boop formed the J&K-Vue prefix for their growing herd of registered cattle. Doug and Jen Boop began the Heart & Soul prefix in 2003, then, in 2011, they purchased the farm from Gerald and Kathy. Their sons, Doug and Matt, are also involved with the operation.
The cows in our contest are a combination of the breeding efforts of both prefixes for the last few decades. Cow A is a granddaughter of J&K-Vue Goldwyn Glamour, the farm's first EX-96 cow that produced over 206,000 pounds of lifetime milk. In 2021, Cow A won the Junior 2-year-old class at the Eastern Fall National. She is owned by Madison and Hayden Weaver of Ephrata, Pa.
Cows B and C both trace to Heart&Soul Algnc Ribbon EX-94, an extraordinary brood cow for the Boops who has produced multiple All-American and Junior All-American nominations. Cow C has been nominated as a Junior All-American for the last three years. She is also owned by Hayden Weaver.

The highest-scored cow of the group and the only one not sired by Mr D Apple Diamondback is Cow D, who is owned with Chris and Jen Hill of Thurmont, Md. Last year, she was Honorable Mention Intermediate Champion of the Pennsylvania Spring Show.
Valley Gem Farm of Cumberland, Wis., provided the Guernsey class. The Grewe family's prefix may sound familiar as they bred and have exhibited the three-time World Dairy Expo Grand Champion and two-time North American International Livestock Exposition Supreme Champion, Valley Gem Atlas Malt EX-96. The farm has been home to Guernsey cattle for more than 100 years, though Roy and Gina Grewe first established their dairy in Arlington, Wash. They and their three sons moved to Wisconsin in 1994 to continue farming.
Today, the herd numbers 85 Guernseys, 50 Holsteins, and 50 Jerseys, which are housed in a freestall barn built in the 1990s. A pack barn was built in 2016 and is used for show cows and dry cows. Roy and Gina own the dairy along with Brandon, Kim, and Brynn Grewe. They say a goal of their genetics program is to breed multiple generations of Excellent cows and develop families that will influence the Guernsey breed.
Their cows in our class have nine All-American and Junior All-American nominations between them, with Cows A and B each claiming four. Cow A is owned with Haley Beukema and Lauryn Weisensel and was the All-Ameri- can and Junior All-American Senior 2-year-old in 2021. Last year as a senior 3-year-old, she earned Reserve honors in both categories.
Cow B is carrying on the legacy of her dam, Valley Gem Luck Deidra.

EX-92, who was nominated All-American four times in milking form. Cow B was a unanimous All-American as a Junior 2-year-old in 2020 and in 2022 was the Junior All-American 4-year-old. She's also a member of Valley Gem's All-American senior best three and is owned with Hannah Hurst and Kyle Polk. Cow D is owned with Prairie Cream and was Reserve All-American as a Junior 2-year-old in 2019.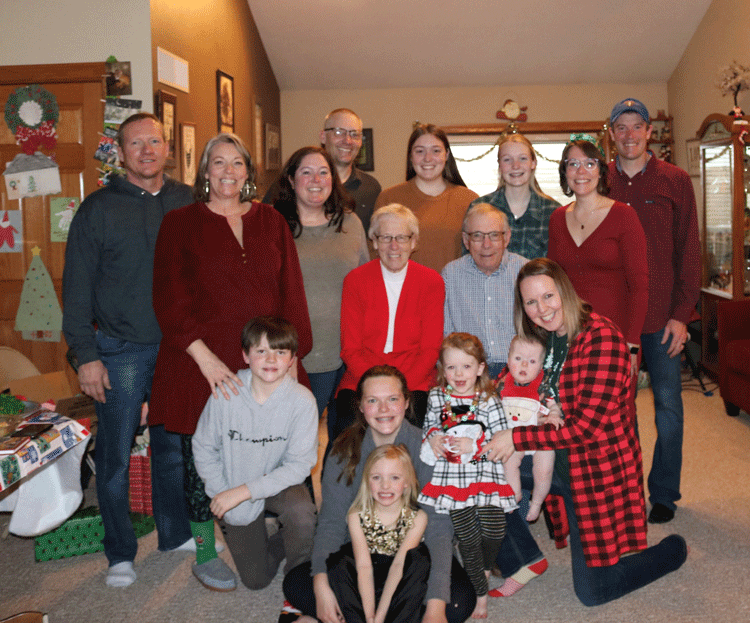 The Milking Shorthorn class came from Pine-Valley Farm of Mineral Point, Wis. Jason James took over management of the southwestern Wisconsin dairy from his father, Ralph, in 2011, and now he and his wife, Leah, are the third generation to operate the farm. They have three daughters, Brenlyn, Annika, and Everlea.
Holsteins and Jerseys can also be found in the Pine-Valley barn, but the Milking Shorthorns have more recently come into their own spotlight. The herd is home to multiple All-Americans, and in 2022, the Senior and Reserve Grand Champion of the International Milking Shorthorn Show was Pine-Valley P Junebug, who they own with Cory and Kristen Salzl of Corstar Farm.
A balance of production and type is the farm's breeding goal, and that is evident in our contest cows. Cow A is an anchor of the Pine-Valley showstring, culminating in 2020 as Reserve All-American Senior 2-year-old and in 2021 as honorable mention All-American Senior 3-year old.
Cows B and C have both been developed from purchases the James family made from notable Milking Shorthorn cow families. Cow B's dam comes from the Innisfail herd and was purchased as an open heifer. Cow B won the Milking Yearling class at World Dairy Expo in 2021 and captured All-American and Junior All-American honors. Cow C was also nominated All-American as a milking yearling. Her dam, Corstar PVF Lovespell EX-92, was purchased as an embryo.
Cow D, on the other hand, comes from multiple generations of Excellent cows with the Pine-Valley prefix. Her granddam, Pine-Valley Logic Zainey EX-93, earned Junior All-American honors as a Junior 3-year-old.
Finally, the Jerseys are owned by Discovery Genetics, which was founded in 2007 by Kevin Krejci and Lisa Demmer. The pair milks 40 cows in Ellworth, Wis., in a tie stall and box stall barn they built when they moved to their current location in 2017. They also raise a majority of their own feed, cropping about 120 acres of corn, alfalfa, and grass hay.
Their herd of about 115 animals is 99% homebred, with 95% tracing back to their two founding Jerseys. Thomsen 4226 Cadillac Jay EX-95 was purchased as a young calf and can be found in the pedigrees of Cows A and B in our contest. Bridon Vindication Evelyn EX-93 is an ancestor of Cows C and D and was purchased as an embryo. Discovery Genetics has bred multiple show winners around the country, including the 2014 and 2016 National Jersey Jug Futurity winners, the 2017 national Grand Champion, and more than 30 All-American nominations. The average classification score on the entire herd of Jerseys is 90 points. A few Holsteins also call the farm home.
All four contest cows have received the maximum classification score for their current lactation, and all are at least a fourth-generation Excellent cow. Cow A is a maternal sister to the dam of Cow B, Discoverys Verbatim Jaguar EX-95, who was nominated All-American three times. Cow A was Senior Champion and Cow B was honorable mention Intermediate Champion at the Midwest Jersey Jamboree in 2020.

Full sisters Cows C and D are daughters of Discoverys Tequila Escape EX-95, the 2016 winner of the National Jersey Jug. Escape has had three All-American Produce of Dam nominations, and Cow C was a member of those groups in 2021 and 2022.