Brown Swiss breeder Richard Hill of New York served as the official judge of the International Brown Swiss Show with the assistance of Joe Sparrow of Kentucky serving as his associate. They placed 361 head of North America's top Brown Swiss.
The winning Fall Yearling, Forfront BNZ Tip Top, owned by Topp View and Jeff Woods of Ohio, was named Junior Champion. She was followed by Rose Lane Jetway Damsel, the winning Spring Yearling, for Lindsey Rucks of Florida.
Intermediate Champion was presented to Top Acres Supreme Wizard-ET. She is owned by Wayne Sliker of Ohio. Dublin Hills Sorina followed Wizard in the senior 3-year-old class and was named Reserve Intermediate Champion for Ken Main and Peter Vail of New York.
The winning 4-year-old Cutting Edge B Gretchen-ET was named Senior Champion for Ken Main and Peter Vail, while Jodi Coppini of Oregon took home Reserve Senior honors with Jo-Dee Ensign Rosebud, the winning 6-year-old and older class winner.
Total Performance Winner was V B Hillpoint Pronto Zip-ET for Voegeli Farms, Wis., while the Nasco Type and Production Award was presented to Random Luck Prem Talent-ET, owned by Rick Thompson, Wis.
Grand Champion went to Cutting Edge B Gretchen-ET and Reserve to Top Acres Supreme Wizard-ET.
While not usually noteworthy to win the dry cow class, the winner of this year's class was breed icon Old Mill E Snickerdoodle (above). Snickerdoodle, World Dairy Expo Supreme Champion, garnered a large round of applause as she was introduced in the champion lineup. Her son, Old Mill WDE Supreme, was named Premier Sire of the show.
Premier Breeder was earned by Rick Thompson and Premier Exhibitor went to Elite Dairy in New York.
Junior Division Champions
Junior champion was presented to Gebert Broker Pumpkin, owned by Cassandra and Chloe Gebert and Carl Hartwell of Indiana. This Spring Calf topped the Winter Yearling, who was tapped for Reserve for Dylan Coleman of Pennsylvania with PA Lyn-Leigh Denver Topsy. Both heifers also topped their class in the open show.
Grand Champion of the Junior Show was Fairdale Elite Debra for Michael Barton of New York. Reserve went to SCF Mayers Jetway Vixen-ET. Vixen is owned by Dylan Mayer of Wis.
---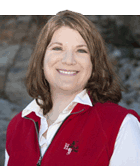 The author is the online media manager and is responsible for the website, webinars and social media. A graduate of Modesto Junior College and Fresno State, she was raised on a California dairy and frequently blogs on youth programs and consumer issues.