The World Classic Sale has been touted as the International Marketplace with its worldwide consignments and purchases leaving an imprint in Holstein genetics. Twenty percent of purchases at the World Classic Sale have been purchased by foreign buyers in 20 countries.
Shortly after 7 p.m. on Friday evening the Coliseum was packed with spectators to witness the sale, which has been managed by Tom and Sandy Morris of Amery, Wis., for the past 25 years. The "Dean of Pedigrees" Horace Backus and Roger Turner handled the pedigree announcements while Tom Morris wielded the gavel for the night.
The high seller was OConnors Aikman Scarlet-Red-ET. Just a July calf, this Red sweetheart has a GTPI of +2462, and the calf's dam is a Larson from the famed Glen Drummond Shower family of Canada. Lot 13 was purchased by GenerVations, Maplewood, O'Connor, Krueger and Patty Jones of Puslinch, Ontario, Canada for $131,000.
Hailing from the family that brought the breed Durham, Lot 22 is a May 2013 AltaOak and a brother to Cookiecutter Petron Halogen. Hawaii, is the No. 1 GTPI Alta Oak daughter in the U.S. and is from a VG-88 Oman Oman, then 7 VG and EX dams. She sold for $95,000 to Progenesis Group of Argentina and was the consignment of Cookiecutter Holsteins of New York.
Lot 6 commanded a price tag of $70,000. Just a few days shy of her first birthday, this +2527 Mogul daughter hails from a VG-MS Superstition, then two EX EX-MS dams. She sold with A.I. contracts to De-Su Holsteins of Iowa.
At the end of the evening, 48 lots sold for $1,264,600 to 16 states and provinces and 5 countries. The 25th Anniversary of the World Classic averaged over $26,262.
Return to Hoard's at Expo page.
---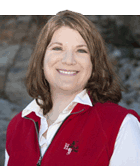 The author is the online media manager and is responsible for the website, webinars and social media. A graduate of Modesto Junior College and Fresno State, she was raised on a California dairy and frequently blogs on youth programs and consumer issues.