People do not like filling out forms, they don't want to seem self-promoting or don't feel their contributions are award-worthy. While struggling for candidates, the eventual winners always seem to be top-notch and well-deserving, but getting those initial applicants can be difficult. At
Hoard's Dairyman
, one of my responsibilities is to stay up-to-date with industry news which I share through the magazine's media outlets. There are announcements throughout the year searching for various award nominees from breed associations, dairy organizations and industry groups that flood our industry. I have served on awards committees and at times, garnering a significant number of nominees can be a challenge.
Farmers by nature, are modest individuals. They get the job done and are content with providing for their family and their lifestyle. They are not seeking fame or attention. However, there are times when they should be applauded for their achievements on the farm or in their community.
How often have you attended a herd dispersal and listened to the lengthy list of herd achievements that the owner has garnered? Most often, we are taken back with the impressive herd credentials, because to us the farmer was just a neighbor milking cows. The appropriate time to give exposure to the herd owner was before the sale, when he or she could appreciate the honor, rather than reflecting on the end of the journey, at the sale when the recognition may seem hollow.
We've all read obituaries of dairy farmers and been surprised by what we've read when it lists their herd breeding status or dairy leadership experiences. Often we wish we knew their unsung impact on the breed or role in the dairy industry while they were still alive.
When I sit at banquets where industry pioneers are honored, I am always interested in listening to what these visionaries have to say about what they experienced – the challenges, the victories, the humorous stories that surprise us. And, then it is a bit more somber when an individual is honored posthumously. A family member graciously accepts the award with, "I wish my dad (or mom) was here to receive this award. He (she) would be so honored." These comments may create a lump in your throat or a tear in your eye.
So, the next time you read about an organization looking to honor individuals, think of who deserves to be nominated. Encourage them to apply or nominate them yourself. Do it when it matters. They may not decide to complete an application, but they will know that their peers respect their accomplishments. The next generation also needs to be reminded of those that walked before them and laid the groundwork for today's industry. We all could use a few more role models.
---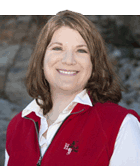 The author is the online media manager and is responsible for the website, webinars and social media. A graduate of Modesto Junior College and Fresno State, she was raised on a California dairy and frequently blogs on youth programs and consumer issues.