Three dairy judging contests were held at the North American International Livestock Exposition in Louisville, Ky., on Sunday, November 10. In all, 43 teams participated in the collegiate, post-secondary and youth contests.
Top 4-H teams tie
A tie-breaker was needed to split the top two teams in the 4-H contest. In the end, Minnesota earned the first-place position while their neighbor, Wisconsin, was second. These top two teams in the 4-H contest finished with 1,796 points, 31 points ahead of third place Pennsylvania. New York was fourth, and Michigan was fifth.
The top individual in the contest was Jamie Woodard from the winning Minnesota team. He finished six points ahead of second-place Derrek Kamphaus from Wisconsin. Megan George from New York, Rachel Ulrich from Pennsylvania and Alex Huibregtse from Wisconsin rounded out the top five.
Minnesota won the reasons contest, followed by Wisconsin and Michigan. Kamphaus was the top talker, with Eryn Orth from Minnesota finishing in second and George in third.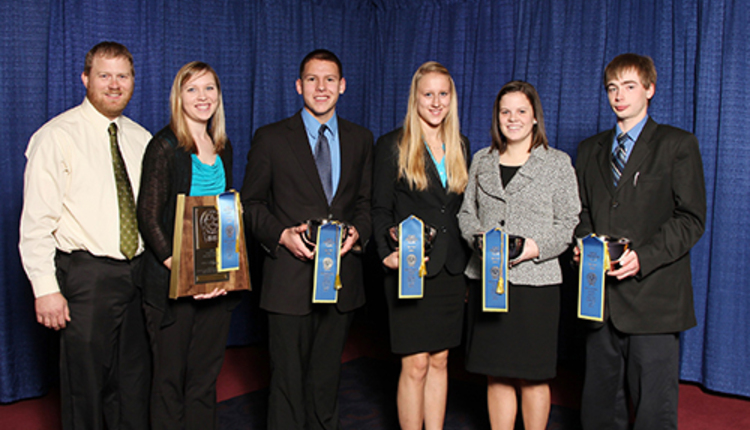 The top youth division team hailed from Minnesota. Shown here are coaches Tony Scheffler and Marie Pieper, Aaron Houdek, Emily Pieper, Eryn Orth and Jamie Woodard.
Just one point separated top collegiate teams
In the collegiate division, Mariah Fjarlie from the University of Wisconsin-Madison earned top honors. She also placed second in the reasons portion of the contest. Malissa Reed, Michigan State, finished second overall. Brooks Hendrickson, University of Wisconsin-Platteville; Emma Reeves, Virginia Tech; and Alex Tebbe, University of Illinois, rounded out the top five.
In another extremely close contest, the team from Michigan State rose to the top with a score of 2,101, beating out second place University of Wisconsin-Madison by just one point. University of Minnesota finished third; Virginia Tech and University of Wisconsin-Platteville followed in fourth and fifth, respectively.
Kelsey Mussman from the University of Minnesota talked her way to first place in the reasons competition. Her team also won that portion of the contest, besting second place University of Wisconsin-Madison by nine points. Virginia Tech finished third in reasons.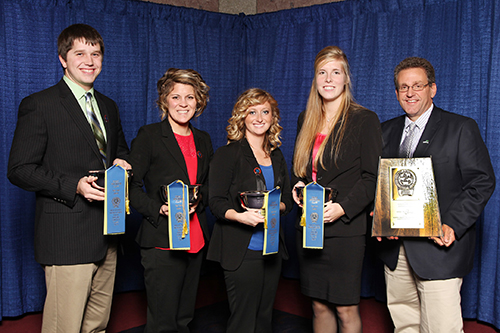 The winning collegiate team from Michigan State included team members Garrett Slavik, Britney Zondlak, Malissa Reed, and Carmen Zwemmer. They were coached by Joe Domecq.
Illinois school wins post-secondary contest
In the post-secondary division, Brett Woker and his team from Kaskasia College rose to the top and won the contest by 11 points. Impressively, all four team members were top 10 individuals. The team also won the reasons portion of the contest, with Woker finishing as the second high individual. This same team won the World Dairy Expo Post Secondary Contest last month.
The second place individual was Meghan Thurston from Ohio State-Agricultural Technical Institute. Her team was second overall and second in reasons. Teammate Laura Bond finished as the fifth high individual.
Hayleigh Geurink from Michigan Ag Tech won the reasons contest by a decisive seven points and was third overall. She and her teammates finished as the third best team in the contest.
The team from Modesto Junior College finished fourth overall and third in reasons. Morrisville State College was fifth overall. Team member Colleen Cargile was fourth high individual and fourth in reasons.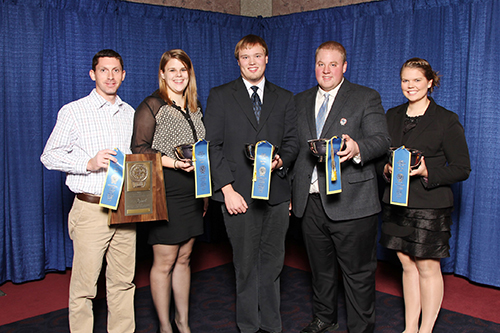 Kaskaskia College won the post-secondary contest. Pictured here are assistant professor Bill Wagner, Morgan Wendling, Brett Woker, Dylan Reed and Jessica Telgmann. The team was coached by Aaron Heinzmann (not pictured).
---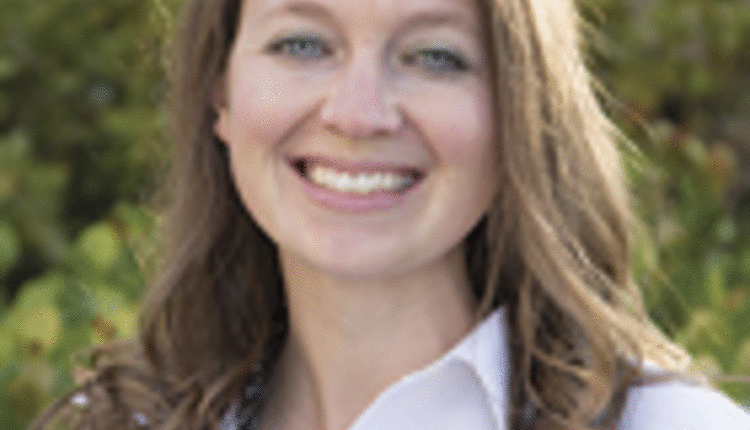 The author is an associate editor and covers animal health, dairy housing and equipment, and nutrient management. She grew up on a dairy farm near Plymouth, Wis., and previously served as a University of Wisconsin agricultural extension agent. She received a master's degree from North Carolina State University and a bachelor's from University of Wisconsin-Madison.