I recently received a newsletter from a charity that helps parents cope with children with Niemann-Pick Disease, a terminal illness. It listed 12 ways to care for the caregiver (parent) during the holidays. With a few tweaks, some of the suggestions apply to dairy producers, too, who are year-round care givers to animals, family and land. So here are a few ways to care for the caregiver:
1.
Take care of yourself physically.
Farmers are notorious for shrugging off discomfort or illness and continue working. If you
think
that pain might be more serious, get it checked before it
becomes
more serious.
2.
Don't overload your daily to-do list and be realistic.
I am a list-maker and I fill up the whole page, but knowing that I will only get a few done at a time and not trying to get them all done maintains my sanity.
3.
Take a break everyday, even if it is just 10 minutes.
Maybe it's sitting on a hay bale and watching the pen for any heats or admiring a nice uddered group of young cows in the barn that have recently calved. Give your body a breather to allow it to recharge.
4.
Regularly attend one or more educational workshops.
It could be a guest speaker on employee relations at your local co-op, a veterinarian sharing the latest in drug regulations at a breed meeting, or even an online webinar to learn about the latest in calf raising.
Learning new ideas, whether you implement them or not, expands your mind to possibilities. And the social interaction with other producers gives a good feeling when chatting with people under similar circumstances.
5.
Give yourself a treat at least once a month.
Maybe an ice cream cone on the way back from the auction yard, a new pair of rubber boots to replace the uncomfortable, worn-out pair you insist still has some miles left on them, or a few pizzas at lunch for the employees who have been putting in extra effort during harsh weather or other challenging circumstances. Take in a high school sports event; you'll enjoy the enthusiasm of the youth and allow yourself to relax a bit. They do not have to be large, luxury items, just a reward you'll enjoy.
6.
Know your limitations.
If you wear yourself out, who takes care of you? Caring for yourself is not a selfish action. This is a tough one, as we are the care givers, and not accustomed to being cared for.
7.
Give yourself credit!
Look back on the things that have gone right and celebrate the mini-victories of a live heifer calf, a record-breaking milk pickup or no ill calves to treat this month.
So as you start 2014, continue to give great care to your animals, but also to yourself. Happy, healthy and a prosperous New Year to all!
---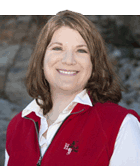 The author is the online media manager and is responsible for the website, webinars and social media. A graduate of Modesto Junior College and Fresno State, she was raised on a California dairy and frequently blogs on youth programs and consumer issues.