Each person has approximately 40 chances – or 40 years – in his or her adult life to make a positive impact on the world.
That is the basic philosophy of the Howard G. Buffett Foundation 40 Chances awareness program. Howard Buffett is a farmer himself in Illinois, but he is also a businessman, politician and philanthropist. The program is in cooperation with
AFA, Agriculture Future of America,
not to be confused with FFA, a program for high school age students.
Forty college freshman from Washington to South Carolina and many states in between, were selected from an application and interview process to participate in this inaugural leadership class. They will attend the AFA national conference each year for the next three years as part of the program, where they will explore agricultural and food related issues, especially those that deal with feeding a growing population and eliminating hunger. The program's goal is to provide these students with knowledge and experience to make positive contributions to agriculture and the food industry.
One hundred sixty college freshman attended the AFA Leaders Conference last fall. Even attending the conference requires an application process and only about half of those applicants are selected to attend the event. Only 40 were selected to be 40 Chances Fellows, making it is a very special privilege.
So, what is involved with being a 40 Chances Fellow? In addition to the training, students will be participating in a service trip the summer before their senior year of college. There are also four different international trips where 10 students each will visit South America, Africa, Western Europe or Asia to learn more about global food insecurity. Throughout the program, students also receive mentorship opportunities and professional development training.
Kate Griswold, Wis., was selected as a 40 Chances Fellow, and both her parents are active in the dairy industry. She is majoring in life science communications with certificates in leadership and international agriculture. "The 40 Chances Program has allowed me to continue to develop as a leader in agriculture through resume reviews, mentor identification and writing sample reviews. I look forward to impacting global food security and learning about food insecurity on a global scale through an agriculture education trip."
The program seems like a perfect fit for her. If you know of someone who may be interested in becoming involved with AFA, there are multiple ways to do so. AFA offers AFA Leader and Academic Scholarships for students who enrolled in, or enrolling in, an agriculture-related, four-year degree program. The deadline for these scholarships, which provide academic assistance and sponsorship to the next AFA Leaders Conference, is March 14. Applications are available at www.agfuture.org/scholarships. Students can also apply directly for sponsorship to the AFA Leaders Conference through the industry sponsorship application form, which will open later this spring and will be due on Sept. 5. You can learn more about the 2014 AFA Leaders Conference at www.agfuture.org/2014conference.
---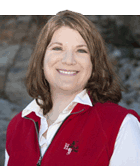 The author is the online media manager and is responsible for the website, webinars and social media. A graduate of Modesto Junior College and Fresno State, she was raised on a California dairy and frequently blogs on youth programs and consumer issues.