Producers that make hay are beholden to Mother Nature. While you may mow hay when the sun is shining, an unexpected rain can damage a valuable forage crop. Bale loss is caused by microbial activity. Microbes need water and oxygen to thrive. To conserve hay's value, you have to keep it away from these two elements, noted Kevin Shinners with the University of Wisconsin-Madison at the Midwest Forage Association's annual meeting.
When microbes have access to a water and oxygen buffet, they burn through the forage's carbohydrates, which causes hay to heat. This process gives the hay a caramel smell and brown color. "Just like people will choose junk food, cow's love to eat this stuff but it's a low-nutrient feedstuff," explained Shinners.
To conserve value, hay should be baled at the right moisture (chart). We also need to inhibit biological activity with a preservative and keep precipitation and oxygen away from the bale.
Shinners covered four primary hay preservative options to inhibit biological activity:
Food-grade coatings (emulsified silicone): This product coats the plant and prevents access to substrate. The application rate is independent of bale moisture, but there is limited testing so far.


Anhydrous ammonia: While it binds to water, sterilizes bacteria and breaks down cell walls while improving feed value, ammonia is expensive and difficult to use.


Bacterial inoculants: Inoculants create lactic and acetic acid to lower pH and suppress biological activity. The enzymes present also break down cell walls, but there is limited independent testing on new formulas.


Organic acids (propionic): Acids lower pH to suppress bacterial activity and act as a fungicide and fungistat. They are commonly applied at a rate of 0.2 to 1.0 percent, but label directions should be followed. The cost ranges between $4 and $20 per ton.
Propionic acid, Shinners added, reduced heating, heat damage and fungi at higher moistures. Label directions should be followed on rate and maximum moisture when using this product. Treated bales will maintain high moisture contents during storage and can lose as much dry matter as the control (untreated bales). Therefore, high moisture bales should be fed as soon as possible.
To see our live tweets from the event,
click here
.
---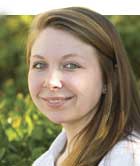 The author, Amanda Smith, was an associate editor and an animal science graduate of Cornell University. Smith covered feeding, milk quality and headed up the World Dairy Expo Supplement. She grew up on a Medina, N.Y., dairy, and interned at a 1,700-cow western New York dairy, a large New York calf and heifer farm, and studied in New Zealand for one semester.