Most of the time, a single type of bacteria will cause mastitis. When multiple strains are recovered the milk sample is almost useless. It becomes difficult to interpret which bacteria is the culprit, noted Pam Ruegg, with the University of Wisconsin's milk quality group.
The most important component of culturing does not happen in the laboratory. It is essential to obtain a useful, aseptically collected sample on-farm. If this step is not done with care, everything done in the lab is a waste. With multiple strains, the pathogen and the contaminant cannot be distinguished from one another.
There are a plethora of bacterial sources on farm: teat skin, equipment, hands of milking technicians and milk film buildup. Not surprisingly, stray DNA often gets into samples, but just because it is there doesn't mean it is the causative pathogen.
For employees taking samples on farm, training and retraining is a must to ensure proper techniques are used. Samples should be taken after the prep routine yet before unit attachment. When samples are taken before attachment, cows are more cooperative. This is a time when milk is traditionally removed from quarters; removing the unit partway through milking to collect a milk sample disturbs the cow's routine.
When sampling:
Wear gloves

Predip and dry the teat

Use alcohol to thoroughly scrub the teat end

Use a sterile container

Take sample (10 cc of milk) without cross contamination

Cool or freeze immediately
At least 20 percent of milk samples will be culture negative if they are properly collected. The methods used in the mastitis culture lab are optimized to grow known mastitis pathogens, but not all bacteria will grow with these methods. If something grows from all samples, there was an error along the sampling chain.
Once the sample is sent to the lab or cultured on farm, technicians will interpret the results to see if there is bacteria or bacterial DNA in milk.
A small droplet of milk is placed on growth media and the inoculated plate is given time to grow. After the inoculation period, the plates are observed for growth and bacteria are identified.
---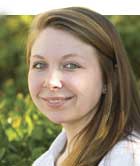 The author , Amanda Smith, was an associate editor and an animal science graduate of Cornell University. Smith covered feeding, milk quality and headed up the World Dairy Expo Supplement. She grew up on a Medina, N.Y., dairy, and interned at a 1,700-cow western New York dairy, a large New York calf and heifer farm, and studied in New Zealand for one semester.