As a group, Americans are the wealthiest they have ever been. This spring household financial wealth was at its peak, and with the current stock market, the two are obviously related. However, the median American household income is still recovering, and is 8 percent below 2007 levels (after inflation), according to a recent issue of
The Kiplinger Letter.
The report went on to say that only about 13 percent of Americans have significant financial assets. We have been told for years to save for retirement, and people are listening. However, that "wealth" is stashed away in accounts that aren't easily accessible without penalty.
The Kiplinger Letter
covers economic forecasts, but in easy to understand, everyday language. The wealth vs. income section caught my attention.
In relevant terms, wealth does not buy food and shelter; disposable income does. It reminded me of the saying "Land rich, dirt poor." And that leads me to the strongest statistic in the piece… Americans spend about 96 of their income, and for many it is 100 percent. That's living paycheck to paycheck, without much wiggle room.
The report concluded that until incomes take a jump, spending is not going to kick-start itself. And, when new jobs are created, they generally are lower-paying.
While the U.S. consumer spends just $6.60 of every $100 of income on food, they are noticing rising food prices. Their food is the highest quality and at the most affordable price, yet they still balk at the price of milk and meat in the stores.
During this same time, milk and meat prices are favorable for those in livestock production. Exports for dairy products and fewer beef cattle numbers are contributing to the financial rewards we as producers are currently seeing. What should dairy and livestock producers do when they are actually making money?
In the June issue of
Hoard's Dairyman
, Gary Sipiorski wrote an article titled,
"What to do with $20-plus milk."
(page 425) Here are his recommendations.
1. Pay down outstanding bills
2. Build some cash
3. Educate yourself on milk marketing strategies
4. Pay off "lines of credit"
5. Be careful about paying ahead on cattle, machinery and real estate
6. Take another look at your liquidity position.
Everything moves in cycles and has ripple effects. In the ideal world, everyone would make a solid living every year and consumers would be grateful for the safety, variety and value of their food. Unfortunately, we don't live in Utopia. But, for now, it is good to be visiting!
---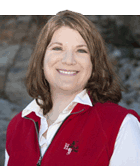 The author is the online media manager and is responsible for the website, webinars and social media. A graduate of Modesto Junior College and Fresno State, she was raised on a California dairy and frequently blogs on youth programs and consumer issues.