**Update on Reece and Hans:
Hans had a successful second stem-cell transplant and is back home. He is doing well and is working little by little at the farm again.
Reese is still is in the hospital, but is upbeat as she makes progress. Her vivacious personality shows through as her body continues to heal. She's chatty and talks to everyone she encounters.
The majority of people in registered Holstein and Jersey circles and across the East Coast are aware of the Memorial Day fire where grandmother Patricia Stiles demonstrated bravery in action when entering the bedroom engulfed in flames to rescue her 7-year-old granddaughter, Reese, who was visiting.
Patricia is now back home in Virginia after an extended hospital stay. Reese continues to make progress. Family and friends keep supporters updated with regular Facebook posts. The messages are optimistic, but always realistic about her fragile condition, and always appreciative of the concern and prayers they've received. She is slowly being removed from the sedation medication and is recognizing voices and people. Her burns are slowly healing. While not speaking yet, she has been squeezing hands and did mouth her sister's name last weekend.
Industry friends have donated animals at public sales, held fundraisers and events to alleviate some of the financial burden the three-month hospital stay has imposed. People have pitched in to help at the dairy in Pennsylvania as her parents have remained close to the hospital for Reese. In reading the updates over the past months, I believe the greatest gift the family has received is the emotional support, even from those who have never met Reese. Everyone is awaiting the day she is back to her bubbly and active self.
A thousand miles away
Cancer. It's a tough word to hear. We expect it later in life, not in early adulthood – at the age of 23.
To "celebrate" his 25th birthday last week, Hans Johnson started chemotherapy that will be followed by the first of two stem cell transplants. But, this was not his first trip to treatment. Since being diagnosed in 2013 with testicular cancer, Hans has undergone over 30 chemotherapy treatments, as well as two surgeries including lymph node and kidney removal.
It has been challenging not only for Hans, but also for his family. He is newly married (last month) and they use their degrees to manage a 325-cow dairy with his parents. With his compromised immune system during treatments, he is to avoid any irritants. Family and friends have stepped up to fill the labor void.
The positive attitude Hans (and wife Catherine) have toward ridding his body of cancer is unwavering. Always a smile. I have known Hans for over a decade as one of my "dairy bowl kids," so his battle is personal.
A community of supporters from his small town organized a BBQ with auction items to aid in financing his two-month stay in Rochester, Minn., while he undergoes his treatments. A caring bridge website has been established to keep well-wishers updated on his progress.
While there are few similarities between Reese and Hans' circumstances, they both love cows, have strong families, and a bounty of supporters. They are both fortunate to live within a few hours drive to two of the leading hospitals, John Hopkins and the Mayo Clinic.
There are certain to be similar stories within your communities. My hope is that readers embrace the fellowship we all share. As I write this blog, with a purple band on my wrist . . . "No one fights alone!" sums it up perfectly.
---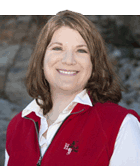 The author is the online media manager and is responsible for the website, webinars and social media. A graduate of Modesto Junior College and Fresno State, she was raised on a California dairy and frequently blogs on youth programs and consumer issues.