The Junior Champion honors was a family affair, with siblings and cousins, Crystal, Jordan, Jake, Josh, Connor and Lauren Siemers of Wisconsin, taking the banner with their Winter Calf, Siemers Defnt Great-Red-ET. Fall Calf, Earincliffe Redliner Sarah, snatched Reserve for a trio of families: Chris and Jennifer Hill, Chad and Scott Umbel, and Matt and Sarah Hawbaker of Maryland.
Intermediate and Grand Champion went to Strans-Jen-D Tequila-Red, exhibited by Milksource Genetics, Wisconsin. "She just blows me away! She has everything you want in a dairy cow," remarked judge Callum McKinven. Reserve Intermediate honors went to Meadow Green Abso Fanny-Ted who also trailed Tequila-Red in the Senior 3-year-old class. Reyncrest Real Laredo-Red, the winning Senior 2-year-old was tapped Honorable Mention for owners Milksource Genetics.
Senior Champion, Reserve Champion, Best Udder of Show, and Best Bred and Owned went to 5-year-old Luck-E Advent Kandie-Red, bred by Matt Engel, Ill. Kandie-Red was praised for being "the epitome of a balanced dairy cow." Reserve Senior Champion and Honorable Mention Grand Champion honors went to Blondin Redman Seisme, exhibited by Milksource Genetics, Wisconsin. Honorable Mention went to Ms-SRP Absolute Pro-Red, exhibited by Mike Garrow and Kevin and Barb Ziemba, New York.
Apple-Red, the original, was second in the Production Class (to Seisme-Red) and her clones won the Produce of Dam class. Apple and her daughter also topped the Dam and Daughter class. In fact, the top three entries in the Produce class were all Apple's. Apple's brother, Advent-Red, captured the Premier Sire banner again this year.
The show can best be summarized by awards announced at the end of the show. Winning Senior Best Three Females and Premier Breeder went to Ferme Blondin, Quebec. With several class winners, Milksource Genetics dominated the show and received the Premier Exhibitor banner.
Junior Show
In the Junior Show, Ms Absolute Glory-Red, winning Fall Calf, took home top honors for owners Mckenna and Coltin Coffeen and Breya Pollack of Wisconsin. Pennsylvania's Kaleigh Lynn and Colton Wayne Hartman had Reserve with their Spring Calf.
Intermediate Champion and Grand Champion was Krull Dirty Girl-Red who was also Best Bred and Owned of the Junior Show for sisters Cassy and Carley Krull, Wisconsin. She was the winning Senior 2-year-old. Reserve Intermediate honors went to Fishersons Redmen Hiccup-Red, the winning Junior 2-year-old, owned by Tyler Fisher, Iowa.
Senior Champion and Reserve Grand Champion Red & White went to Milksource Adv Lilac-Red-ET, exhibited by Jenna Langer of Wisconsin. Reserve Senior Champion went to her 4-year-old classmate, M-Croakypond BA Ruby-Red-ET, owned by Gary Snyder and Autumn Worman, Indiana.
249 head were judged by Callum McKinven of Quebec, with assistance from associate judge David Crack.
Return to Hoard's at Expo homepage
---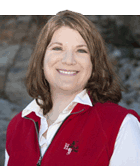 The author is the online media manager and is responsible for the website, webinars and social media. A graduate of Modesto Junior College and Fresno State, she was raised on a California dairy and frequently blogs on youth programs and consumer issues.