Mike Hutjens presented "Feeding cows for transition success" during the January Hoard's Dairyman webinar. He shared 10 Key Performance Indicators (KPI). While all 10, would be admirable, it's not realistic. "Choose two or three KPIs and really focus on those for your herd," suggested Hutjens.
webinarsThe transition period is the three weeks before and after calving. The dairy cow undergoes many changes in her metabolism, immunity, udder and reproductive system. During this time, she's most susceptible to metabolic and infectious diseases. These conditions not only cost you lost income from milk sales, but add expense through additional labor, delayed reproductive efficiency, medication, and potentially early culling or death.
The 10 Key Performance Indicators
#1: Number of culled cows before 60 days in milk.

This number should be less than 8 percent.
#2: Dry Matter Intake in the close-up pen

Depending on whether or not you have a mix of close-up cows and first-calf heifers, DMI should be between 25 and 30 pounds per cow. At that level, the cow will be physically full. Smaller breed cows will consume about 10 to 15 percent less.
#3 Metabolic goals

What percent of your herd do you treat for milk fever, ketosis or displaced abomasums? Hutjens reported that few producers track this information, but he included recommendations in his presentation. "You need to measure these values so you can better manage them," Hutjens stated.
#4 Dry Matter Intake after calving

Cows that eat more DMI during the dry period will eat more during lactation.
#5 Feed additives

He briefly discussed the many options. Evaluate price and benefits.
#6 Drench protocols

Some herds prefer to drench all cows, while others treat selectively, but it's important to have adequate product in the warm water drench. Adding flavor like milk replacer, jello or kool-aid packets can aid in palatability.
#7 Solid trace mineral and vitamin program

Follow the NRC guidelines but consider watching Bill Weiss' archived webinar,
"Update on mineral nutrition of dairy cows"
on his suggested alterations to NRC levels.
#8 Maintain blood calcium levels

Avoid hypocalcemia, which can lead to immune suppression in the recently fresh cow. Garrett Oetzel conducted a webinar,
"Cows and their calcium"
, entirely dedicated to this topic.
#9 Reducing blood ketone levels

Producers greatly underestimate ketosis prevalence when compared to blood ketone test results. Veterinarian Garrett Oetzel presented a
"Preventing and treating ketosis webinar.
#10 Fresh cow monitoring

Monitor fresh cows for FATMUD: Feed intake, Attitude, Temperature, Manure consistency and Uterine Discharge. These checks may be time consuming, but are worth it to keep fresh cows healthy and off to a good start. Hutjens advises, "Move fresh cows to the milking group when they are ready and healthy."
This
January webinar
is archived and available for viewing. Past webinars can be found at www.hoards.com/webinars.
---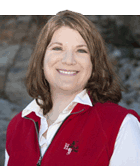 The author is the online media manager and is responsible for the website, webinars and social media. A graduate of Modesto Junior College and Fresno State, she was raised on a California dairy and frequently blogs on youth programs and consumer issues.