When things get tough for dairy producers, they look for help. A family member, friend or trusted confidant can be to whom they turn. While they may provide emotional support, some may not have the expertise to help with a business problem.
Wisconsin dairy producers are fortunate to have a small army of agricultural experts who assist with professional and personal issues. The Wisconsin Farm Center's goal is to "keep farmers farming whenever possible."
The
Wisconsin Farm Center
is part of the Division of Agricultural Development, which is part of the Wisconsin Department of Agriculture, Trade and Consumer Protection (DATCP). The division provides guidance to three sectors in our industry: producer level, processor level and international trade.
We'll focus on the dairy farm level, but all three serve agriculture. The 14-member team consists of animal husbandry, livestock and dairy assistance, mediation, women and minority farmer services, and help with financial reviews and planning services. Ty Rohloff, Rural Electric Power Services Manager for DATCP, spoke at a recent Jefferson County Agri-Business Club meeting. Raised on a dairy farm, he was well-versed in how the Center can aid producers.
(Right) left to right: Paul Hadler, Jefferson County Agri-Business Club and Ty Rohloff, Rural Electric Power Services Manager at WDACTP.
As an aging industry, we need to plan for the future. Farm transfers, retirement or property sales are part of DATCP's services. Working through the logistics of farm succession, tax implications, health care and long-term care for aging parents are among the frequently asked questions. New entrants into the industry also find assistance with this program.
For farms seeing animal care challenges (stray voltage, for example) can contact them for help. Two full-time veterinarians evaluate the farming operation and offer their insight. There is also staff with experience in assisting organic and grazing dairy operations and beef producers and processors.
There is a formal mediation program utilizing trained mediators. This could encompass a family issue, billing dispute or lender concerns. Aside from business discussions, DATCP also provides emotional support. Also professional counseling vouchers are available to help stressed farmers.
The Farm Center presents an objective view of a farming operation and provides services, advice and guidance at no charge. All information is kept confidential. Assistance is given to producers of all sizes and industries within the borders of Wisconsin.
Learn more about the Wisconsin Farm Center
here or call (800) 942-2474.
---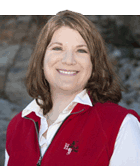 The author is the online media manager and is responsible for the website, webinars and social media. A graduate of Modesto Junior College and Fresno State, she was raised on a California dairy and frequently blogs on youth programs and consumer issues.