The Agriculture Council of America hosts National Agriculture Day, with the epicenter being Washington, D.C. Events promoting the role food
and fiber play in daily lives will attempt to reach educators, families and government officials. The 2015 theme is "Agriculture: Sustaining Future Generations." But, the message starts at home.
National Ag Day has four goals:
1. Understand how food, fiber and renewable resources are produced
2. Value the essential role of agriculture in maintaining a strong economy
3. Appreciate the role agriculture plays in providing safe, abundant and affordable products
4. Acknowledge and consider career opportunities in the agriculture, food, fiber and renewable resource industries
What are the desired results?
When consumers are educated on the processes of food production, they can make more informed personal choices about their diet and health. In addition, their voice, as a concerned and informed citizen, can be heard in developing policies that affect production agriculture.
Agriculture is in need of additional people to join the work force, and not just on the typical production side. Jobs include ag research and engineering, agribusiness management and marketing, food science, processing and retailing, banking, education, landscape architecture, urban planning, and energy.
As students, our depth of knowledge grows with each passing year. The hope is that kindergarten students will learn about agriculture and each year another piece of the food production puzzle will be added to their curriculum. With this will come an understanding of ag's history and current economic, social and environmental significance to all Americans.
Promoting agriculture is not just for the social media savvy. Those of us who are involved in agriculture are walking billboards to the consumer. Our actions on the farm and in conversations in public give insight into the passion we feel for our livelihood. That passion is deeply-engrained and should be embraced.

If you slept on flannel sheets, ate breakfast and drank milk this morning or put on a cotton shirt, denim jeans and a wool stocking cap, you have started the day heavily invested in agriculture. We hope that everyone reflects on how agriculture impacts their life today . . . and every day.
---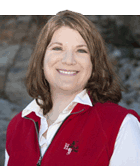 The author is the online media manager and is responsible for the website, webinars and social media. A graduate of Modesto Junior College and Fresno State, she was raised on a California dairy and frequently blogs on youth programs and consumer issues.