Standing are LTC students with three of their instructors seated.
"Let me get my hands dirty" . . . that is the eagerness of a young person wanting to enter production agriculture. They have a desire to put the knowledge they learned at a desk into practice.
I had the opportunity to attend the Lakeshore Technical College (LTC) appreciation banquet last week. The event serves as a graduation ceremony for students in the Dairy Herd Management Program.
In addition to classroom instruction, the program focuses on hands-on learning. Each student interns on a host farm where they work during the school year. And, each Wednesday morning, the class travels to a different dairy to diversify their exposure to management techniques.
This was the sixth year I have attended the banquet. Each student introduces himself, gives background on their life, shares a favorite LTC memory and future plans. Their stories are diverse, but their desire to learn more about the dairy industry is evident. Three activities were talked about with much excitement.
The first was the judging contest at World Dairy Expo. The postsecondary contest includes traditional judging classes and oral reasons, but it also has a "practical" portion, with a herd selection component.
The popularity of the North American International Dairy Challenge has exploded. Started in 2002, Dairy Challenge is for four-year universities, but a relatively new sister program exists, Dairy Challenge Academy, where postsecondary schools can participate. Students evaluate a dairy operation, looking at the nutrition, reproduction, milking, animal health, housing and financial management of the dairy. In small teams, students then present their recommendations to the dairy owner, with guidance from university and industry professionals. A contingent of LTC students attended the Midwest Regional Dairy Challenge in Iowa.
Some students also attended the
National Postsecondary Agricultural Student (PAS)
convention in Idaho. There were speech competitions, quiz bowl, job interview contests, as well as educational sessions. The 35-year-old organization serves not only dairy students, but the majority of agricultural disciplines including agronomy, ag machinery and horticulture. There are over 60 chapters in 18 states. The mission is to provide individual growth, leadership, and career preparation.
These competitions help prepare students for their next step in life. The networking and communication skills that are utilized at these events will make them strong team members in their chosen careers. That was evident as I listened intently to each young professional address the evening's crowd. Congratulations on your graduation!
---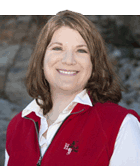 The author is the online media manager and is responsible for the website, webinars and social media. A graduate of Modesto Junior College and Fresno State, she was raised on a California dairy and frequently blogs on youth programs and consumer issues.