Standing time is often wasted time. Throughout the day, cows should spend the majority of their time budget engaged in one of three functions: feeding, lying and milking. In order to accomplish the latter, though, some "loitering" in the holding pen is necessary.
But, when cows spend an excessive amount of time in the holding pen, their production potential is compromised. In a recent Kentucky Dairy Notes, researchers shared four tips to better capitalize on the time cows are waiting to be milked.
Minimize time spent in the holding pen. Ideally, cows should spend no more than an hour in the holding pen per milking. Cows that spend upwards of six hours a day waiting to be milked produce 5 to 8 pounds less than those spending only three hours in the holding pen.
Bringing up fewer cows at a time or making groups smaller can most easily reduce this unproductive time. Moving cows more efficiently through the parlor can also result in more turns per hour, enabling cows to return to their pens faster.
Ensure adequate and safe footing. Holding pens accumulate waste quickly, which can make a slick floor even harder to stand and walk on. These wet areas also elevate the likelihood of foot problems, such as foot rot and digital dermatitis.
Grooved flooring, especially in a diamond pattern, is critical in the holding pen as it reduced injuries from slippage and cow stress. Use rubber mats with care; they offer a softer surface than concrete, but must be replaced as they harden.
Focus on heat abatement. Heat abatement should be a holding pen priority. Heat stress kicks in at a temperature-humidity index (THI) 68, and cows gathered that close together generate a lot of heat.
The holding pen THI can be reduced by using fans, shades or sprinklers. Fans and sprinklers can be set to turn on automatically at 68°F. To minimize bacterial movement, sprinklers should provide enough water to soak the skin without running onto the udder.
Use crowd gates with care. The main purpose of crowd gates is to maintain proper space in the holding pen for a given number of animals. Crowd gates should be used as a tool to encourage cattle to move into the parlor so milkers can focus their efforts on the milking process. In doing so, cows should move through the parlor more expediently.
---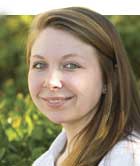 Amanda Smith was an associate editor and is an animal science graduate of Cornell University. Smith covers feeding, milk quality and heads up the World Dairy Expo Supplement. She grew up on a Medina, N.Y., dairy, and interned at a 1,700-cow western New York dairy, a large New York calf and heifer farm, and studied in New Zealand for one semester.