As a 4-H member I remember attending monthly local 4-H dairy meetings. Held at a leader's farm, all members, from first year to the very experienced, were expected to attend.
Meetings were a great opportunity to learn, but not necessarily compete – there would be contests later for implementing the skills learned.
Now, when I talk to youth or their parents, I find that very few have structured meetings anymore. They either do just dairy judging or have no meetings at all. Are we missing an opportunity to teach young dairy enthusiasts valuable skills?
Sessions I remember well:
How to tie a halter. After the leader showed us, we tied each other to the fence by our belt loops. It took a while to learn, but it was a needed skill. If you walked your heifer to the wash rack, who was going to tie her?


Dairy Judging. We visited dairies in the area for practices. There would be two classes and include reasons. Growing up in California, we had to give reasons starting our first year of 4-H (age 9). During wetter months, we judged the Hoard's Dairyman Cow Judging Contest at our meetings. The Purebred Dairy Cattle Association scorecard was our guide.


How to read a pedigree. Most of our judging contests included a pedigree class. A sea of numbers! But, knowing how to read a pedigree allowed us to evaluate them in a contest, and we could use the skill to complete our own fair entries.


Showmanship. Weeks before the fair, my siblings and I would have our animals tied up. We'd have a showmanship workout with the leader as the judge. An hour of stopping, posing and pulling into line mimicked a real class. We changed animals to adjust to smaller heifers, unruly yearlings or milking cows. (The PDCA showmanship scorecard changed a few years ago, so the current printout would be helpful to have handy.)


Fitting. We had fitting demonstrations to teach clipping and animal preparation. We were reminded of proper washing techniques and hoof trimming.


Record keeping. In order to show at the county or state fair, every 4-Her had to complete a 4-H record book. The dairy portion had to contain inventory (cattle and supplies), expenses, income, hours of labor and profit and loss statement. We also had to summarize what we learned at our monthly (September through May) meetings.
All of these skills helped us learn about dairy and to rely on ourselves, which in turn gave us confidence. Even though youth and adult schedules are busy, there is still value in taking time to teach similar lessons we learned as children.
---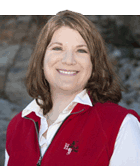 The author is the online media manager and is responsible for the website, webinars and social media. A graduate of Modesto Junior College and Fresno State, she was raised on a California dairy and frequently blogs on youth programs and consumer issues.