There was no denying Strans-Jen-D Tequila-Red-ET. She paraded beautifully around the ring as if she already knew the show's outcome. And it was old habit for her, as Tequila took the same honor at last year's show. This Director daughter is owned by MilkSource Genetics, Wis.
Judge Pat Conroy of Indiana and his associate judge, Joel Lepage of Quebec, placed the International Red & White Show on Thursday afternoon and Friday morning at World Dairy Expo. Conroy commended the exhibitors this morning for an "awesome cow show!" And remarked at the amazing progress the Red & White breed has made over the years.
Tequila-Red topped the 4-Year-Old class, and following her in class, and all day long, was Ms Stranshome Alltheway-Red, as this Redliner was named Reserve Senior and Reserve Grand Champion of the show for her owners Glamourview – Iager and Walton of Maryland.
Sired by Redman, Intermediate Champion and Honorable Mention honors went to the senior 3-year-old Rokey-Benfar R Cutie-Red-ET, exhibited by MilkSource Genetics. Reserve Intermediate Champion was Frozenes-LP Contdr Lark-Red-ET, owned by Grady and Lane Wendorf of Wisconsin. The beautiful uddered young cow topped the Senior 2-Year-Old class.
Junior Champion went to Earincliffe Redliner Sarah-Red, a fall yearling owned by Glamourview – Iager and Walton of Maryland. MilkSource Genetics took home Reserve Junior Champion honors with Milksource Wire Racket-Red, the winning fall calf.
With animals consistently placing in the tops of their classes, MilkSource Genetics claimed Premier Breeder and Premier Exhibitor banners. KHW Advent-Red was awarded the Premier Sire award.

Junior Show Highlights:
Grand Champion of the Junior Show was Cleland Absolute Coleen-Red, owned by the Stransky brothers of Minnesota. She was the winning 5-year-old, of both the Open and Youth Show. New York's Cyrus Conard took home Reserve Grand Champion with his 125,000 Lb Production Class winner, Ridgedale-T Raichu-Red. This Talent daughter also won the open class and was best bred and owned in class.
Intermediate Champion honors went to siblings Dawson and Kylie Nickels and Grady and Lane Wendorf of Wisconsin. Milksource Dty Tammy-Red-ET, a Destry daughter, hailed from the strong Senior-3-Year-Old class, placing fourth in the open show. Reserve Intermediate banner went to Sunnylodge Reali Laurel-Red, this Reality daughter is owned by Whitney Kugler of New York. Laurel placed third in the open class.
In the heifers, Brock Liddle of New York took the banner for Best Heifer of the Junior Show with LME Armani Rascal-Red, the winning winter calf who also placed third in the Open Show.
Spring yearling Glad-Ray-K More Sleet-Red-ET is owned by Patrick Youse of Maryland. This Contender daughter captured the Reserve Junior Champion of the Junior Show.
To see more highlights of Friday's events, including video from the show,
click this link.
---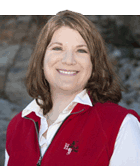 The author is the online media manager and is responsible for the website, webinars and social media. A graduate of Modesto Junior College and Fresno State, she was raised on a California dairy and frequently blogs on youth programs and consumer issues.