In mid-October a record setting sea of blue jackets descended upon Indianapolis, Ind., for the 83rd National FFA Convention. Over 54,000 members, teachers, and guests were in attendance. In this sea of blue jackets were a proud group of dairy enthusiasts who competed in proficiency and career development events throughout the week.
Dairy Production Entrepreneurship Proficiency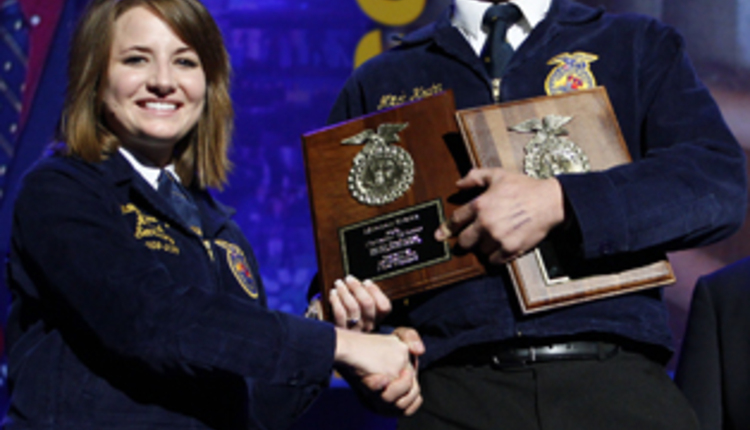 Michael Krahn of the Brillion FFA in Wisconsin was the winner of the Dairy Production Entrepreneurship proficiency.


Dairy Production Placement Proficiency



Erin Daninger of the Forest Lake FFA in Minnesota won
the Dairy Production Placement proficiency.
Dairy Cattle Evaluation Career Development Event
Forty-two teams competed in the Dairy Cattle Evaluation competition. That competition was won by the Atwater-Buhach Colony FFA chapter of California. Team members included Robert Iniguez, Vincent Migliazzo, Kaitlyn Ryan, and Alison Sherman. Coming in second was the team from the Owatonna FFA in Minnesota. Winning the contest individually was Kaitlin Gelsinger of Conrad Weiser FFA, Pennsylvania.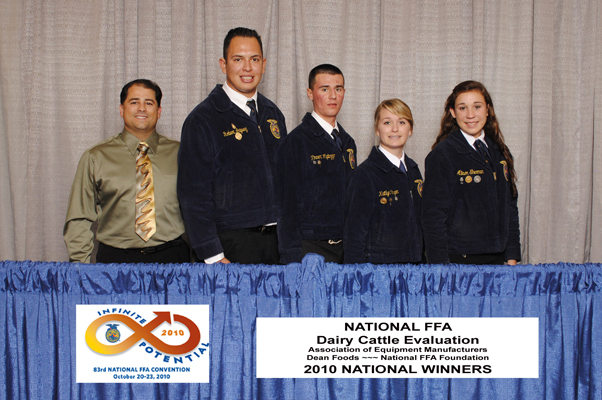 The winning Dairy Cattle Evaluation team hailed from the
Atwater-Buhach Colony FFA Chapter in California
Dairy Foods Career Development Event
From a field of 37 teams once again emerged the dairy-foods-powerhouse Fair Play FFA of Missouri to win the national title. This is not the chapter's first dairy foods championship at a national convention. That team consisted of Haleigh Bruce, Michael Harris, Lane Rippee, and Elisabeth Whaley. Coming in second was the team from Sumner, Wash. Winning the individual portion of the contest was Elisabeth Whaley of Fair Play FFA, Mo.
The winning Dairy Foods team was from the Fair Play FFA in Missouri