An ounce of prevention . . .
When the idea to host events to teach children about farm safety began in 1995, I doubt the Progressive Agriculture Foundation organizers thought they would impact nearly 1.5 million lives. But, maybe their biggest success is the communication it opens between students and parents when they share what they learned at Ag Safety Day.
Those of us raised on a farm knew about dangers. But today, fewer children are raised in farming environments and common sense lessons we learned from dad and grandpa are not being shared with young people.
The Ag Safety Day program shares safety messages for everyday circumstances they may encounter. The program has events from California to New York and across Canada. You can check
their website
for an event in your area.
While some of the scenarios are farm related, some have nonfarm implications. How do you react to these situations at home, at the cabin or at school?
• Chemical splashes
• Skin burns from boiling water
• Fire prevention and control
• Sun damage and cancer prevention
• Ear protection from loud noises
• Motorized vehicle (ATVs, four-wheelers) safety precautions
• Electrical issues
In the video, one of the most visually engaging demonstrations included a straw-stuffed scarecrow that gets intertwined in a power take-off (PTO) and just shredded with the speed and velocity. Telling people to avoid loose clothing around PTOs is one thing, but showing them the deadly ramifications are life-changing.
Another visual demonstration that makes an impact includes the cab of a truck mounted on a drum where it can spin in place. A mannequin sits in the vehicle without a seat belt. The contraption simulates a rollover; the body flies out the window and onto the other side of the vehicle.
Think about how many people you have come in contact with who were affected by any of these dangerous situations. Would education have helped them avoid or minimize the damage caused?
Countless volunteers make the Ag Safety Days possible. From the trained station presenters to event workers, they donate their time and talent. Corporate sponsors understand the value of this type of education and contribute to the 501(c)3 events.
Hoard's Dairyman
is one of Ag Safety Day media supporters. We have placed ads in our magazine and on our website promoting the program. The Hoard's Dairyman Farm was also used as a backdrop for some of the video footage.

---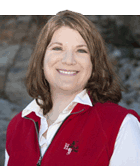 The author is the online media manager and is responsible for the website, webinars and social media. A graduate of Modesto Junior College and Fresno State, she was raised on a California dairy and frequently blogs on youth programs and consumer issues.