Winter – the season when not a lot happens in the fields. And for this reason, trade shows are scheduled to entice busy farmers to attend.
With World Ag Expo next week in California, I'll be working in the
Hoard's Dairyman
booth. Acres of diversified ag products will be on display to serve all types of attendees from grape growers to cattle ranchers to nut processors. Fortunately for dairy producers, the majority of dairy businesses are in one building.
There are plenty of suggestions for booth workers to maximize their exposure at these events. That being said, attendees should also be planning to get the most of their time at a trade show. Here are a few tips for optimizing your time spent at an agriculture trade show.
Before you step out your door, have a plan. How long will you be at the show? Is it a multiday event? Prioritize your booth stops by knowing your time commitments. Make a list of "must see" and "want to see" booths. Many trade shows provide the booth exhibitors and locations in preshow mailings or on their website. With a little advance research, you can find booth locations and map a route.
Once you have decided which booths to visit, think about how much time to commit to each stop. Knowing a rough time frame will keep you on schedule, but also make discussions concise, provide motivation to conclude your conversation and obtain pertinent handouts and contact names before moving on to your next stop.
Trade shows provide a variety of products – some you are familiar with, others not. Carry a note pad and pen to write down important tidbits you learned, making sure to have the name of the company and person you spoke with. With those details, you have a written record of your day's conversations and can refer to them later when evaluating purchases.
But, don't forget to build in some social time. At gatherings like these, you are bound to run into friends and acquaintances. Enjoy this time; don't always be in a rush. These encounters can also provide insight as to what others have seen at the show. Build in some extra time for these unplanned chats.
For some, it is just a day off the farm – and that is okay. We all need some downtime. For others, it's a mission to source, price and purchase new goods and services. As long as you have a plan, and work the plan, your trade show travels will be a success.
---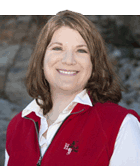 The author is the online media manager and is responsible for the website, webinars and social media. A graduate of Modesto Junior College and Fresno State, she was raised on a California dairy and frequently blogs on youth programs and consumer issues.