Today, I hop on a plane to finish Phase III of the Young Dairy Leaders Institute in sunny Phoenix, Arizona. Besides the great weather - because we can all use some sunshine this time of year - I am most looking forward to being together with my classmates of YDLI once again.
It's been a whirlwind of a year since finishing Phase I in Phoenix last February and then continued with my Phase II projects at home. When I first applied to be a member of YDLI's Class 9, it was because the leadership development conference had come very highly recommended, and I saw it as another opportunity to invest in myself.
What I didn't expect was the network I would gain.
As I am looking forward to the final presentations, I have thoroughly enjoyed all that I have learned so far. It is definitely the people from all across the U.S. and Canada who I will appreciate and gain the most value from. I don't think I would have ever been able to get that same experience and meet the same caliber of people from across the dairy industry anywhere else. YDLI was the perfect place for relationship building that will continue to nurture benefits years from now.
As YDLI Class 9 comes to a close, I would encourage all young dairy industry members to consider the
Young Dairy Leaders Institute
.
I also want to extend a big thank you to the Holstein Foundation, Jodi Hoynoski and Lindsey Worden for the amazing program they've created and invested in. Also, all the advisory committee members and amazing sponsors that help to make the program a success.
Speaking of introductions, I am so excited to be a member of the expanded HD Notebook blogger team. A spot I share with two of my YDLI classmates,
Sadie
and
Caitlin
.
I look forward to bringing you more of my story here!
---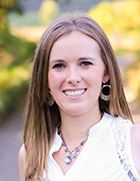 The author is a third-generation dairy farmer from Oregon where she farms in partnership with her husband and parents. As a mother of two young boys who round out the family run operation as micro managers, Darleen blogs about the three generations of her family working together at Guernsey Dairy Mama. Abiqua Acres Mann's Guernsey Dairy is currently home to 90 registered Guernseys and is in the process of transitioning to a robotic milking system.