Tuesday, March 15 is National Agriculture Day, which marks the 43rd year of celebrating the ways agriculture impacts everyone. This year's theme is "Celebrating Safe and Healthy Ag Workers."
The National Agriculture Day program encourages every American to:
Understand how food and fiber products are produced.

Appreciate the role agriculture plays in providing safe, abundant and affordable products.

Value the essential role of agriculture in maintaining a strong economy.

Acknowledge and consider career opportunities in the agriculture, food and fiber industry.
Part of the activities encourage young people to get involved by participating in an Ag Day Essay Contest and a Poster Art Contest. The theme was Agriculture: Stewards of a Healthy Planet. Click to read the
winning essay, "Stewardship for Generations"
by high school student Emily Dougherty of Indiana.
Another Emily – Emily Eibs, a student at the University of Wisconsin-Stout, was selected the winner of the art contest. Her creation is shown above.
On Monday evening and Tuesday, a panel discussion, social events and a banquet will be held to celebrate agriculture and recognize Outstanding Young Farmer honorees, essay and art contest winners, and other special award presentations. Held in Washington D.C., Secretary of Agriculture, Tom Vilsack has been invited to attend.
National Agriculture Day is being hosted by the Agriculture Council of America (ACA). The
board of directors
contains members that represent agriculture media, equipment manufacturing, animal feed and rural membership organizations.
Other than the March events, year-round learning is encouraged through their educational pieces. ACA has produced nearly 90 videos to remind those working in agriculture about safety, but also to help educate those unfamiliar with livestock behavior. A great example is this animal handling video, which reminds all of us to be cognizant of our animals' natural instincts.

Other video topics include personal protective equipment, needlestick prevention, livestock safety, chainsaw safety, tractor and machinery safety, child development, emergency response, grain safety, pesticide safety, heat illness prevention and much more. These would be great resources for 4-H project meetings, but also general 4-H and FFA gatherings.
Click to view their channel.
Whether we are educating others about agriculture or reminding ourselves of the incredible role we have in feeding a hungry planet, Ag Day is for everyone.
To learn more about next Tuesday's National Agriculture Day, go to www.agday.org
---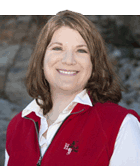 The author is the online media manager and is responsible for the website, webinars and social media. A graduate of Modesto Junior College and Fresno State, she was raised on a California dairy and frequently blogs on youth programs and consumer issues.