At Hillcrest, we believe it is important to share what we do on our family farm. However, like most farms, there are only so many hours in the day. That is why we provide tours to select groups but not the general public.
We enjoy touring some international guests, typically chaperoned by a third-party agribusiness such as Genex, DeLaval or Farm Bureau. We also tour student ag groups like FFA, young farmers, collegiate ag groups and dairy contest teams. We also take the time to interact with elected officials and use tours as an opportunity to educate these leaders on pending ag legislation and policies.
It is interesting to provide tours to these groups . . . they are truly interested in dairy farming. They ask great questions that provide a chance to teach about our operation. Some of the questions from guests even give us new ideas to consider enhancing our farming operation. When guests bring up ideas that we have not considered, I even learn as much as our guests.
We use our farm's Facebook page to give a virtual tour to everyone else who wants a glimpse into our operation. My Android phone gives me the opportunity to shoot videos and take pictures of our daily operations. Having a camera in your phone is a great way to catch those miracles that I might have missed if I had to go find a traditional video camera. Those miracle moments include sunrises, sunsets, a calf being born and taking its first wobbly steps, as well as the fan favorite - cows loving automated cow brush massages.
There is a risk of sharing with and touring the public, but the bigger risk is letting our consumers get their information from the wrong source. When we have tours, we do not allow photography or videotaping on our farm. We inform our guest that we have great photos and videos about all facets of our operation on our Facebook page.
We have developed many new friends and followers through social media. It is great way to develop an ongoing conversation about all the great things about dairy farming.
So my advice to you is that if you do a good job keeping up the landscape around your farm and you are proud of your operation, then share on whatever scale you are comfortable with. Share your farm with your neighbors and general public, either in person or through social media or a website. Be the face of dairy, show and share your family farm. We need our consumers, and they need to be confident that we are doing our best to produce a great product to feed to their family.
Follow us on Facebook at:
Hillcrest Farms Inc.
---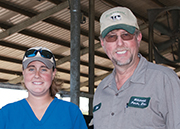 Mark and Caitlin Rodgers are dairy farmers in Dearing, Georgia. Their "Daddy and Daughter Dairy Together" column will appear every other Thursday on HD Notebook. The Rodgers have a 400-cow dairy that averages 32,000 pounds of milk. Follow their family farm on Facebook at Hillcrest Farms Inc.
---
The next webinar is April 11, 2016:
Target rations for your milking groups
presented by Bill Weiss, Ohio State University
Brought to you by
Kuhn North America
Formulating a diet for a pen of cows is filled with compromise. You want to avoid wasting excess nutrients on lower-producing cows in the group without shortchanging high-producing animals. This webinar will discuss approaches to help determine appropriate nutritional factors when formulating rations for groups of cows.