The Jacob Family includes (from left to right): Kevin Jacobs and Stephanie Benoit, Yan Jacobs and Veronic Premont, Marian Ghielen and Jean Jacobs, Ysabel Jacobs and Tyler Doiron, Laurie Jacobs, and Mathieu Jalbert.
photo by Carl Saucier
The Jacobs Family of Cap-Santé, Quebec, have been selected by the Klussendorf Association as the eighth recipient of the Robert "Whitey" McKown Master Breeder Award. This award recognizes a well-managed breeder herd that has been successful at showing and judging, and emphasizes all qualities of the Klussendorf Award, including ability, character, endeavor and sportsmanship. The award was formally presented on Friday, October 7 during the 50th World Dairy Expo in Madison, Wis.
Leo and Nellie Jacobs made the long, yet exciting journey from the Netherlands to Canada in 1951. They then made the decision to purchase Ferme Jacobs in 1965. The farm, or ferme in French, is now co-owned with their son, Jean, and his wife, Marian, whose four children also help manage the establishment. Jean and Marian's two oldest children, Yan and Ysabel, partnered with Ferme Jacobs several years ago and now help oversee the herd as well as work with the young stock. Kevin and Laurie, the two youngest children, are also involved in farming. Kevin, along with his wife, Stephanie, maintain their own herd under the "Intense" prefix, while Laurie works for Lely and helps out at the farm during her free time.
The farm has sustained impressive production records over the years and currently milks 183 Holsteins with a rolling herd average of 11,000 kilograms or 24,255 pounds of milk, 4.2 percent butterfat, and 3.24 percent protein. Not only do the cows excel in the parlor, but many have also made appearances in the showring. The Jacobs family has established a tremendous herd of high-quality type and production animals that have stood at the top of their classes at national and international levels.
Jean and Marian's son, Yan, has had much to do with the herd's genetic success throughout the years. Yan and Ysabel took over the responsibility of breeding decisions at the farm and currently overlook the herd's embryo program. Each year, the farm typically sells 200 animals along with 250 embryos from the herd's flush program. With an impressive number of animals sold, it is estimated that 60 percent of the farm's income comes from the sale of Ferme Jacobs genetics while 40 percent comes from the sale of milk
T.he farm has always focused on breeding for type and production traits over the years. Their methods have reaped success, as Ferme Jacobs has secured the Premier Breeder Award at World Dairy Expo each of the past five years. The 95 percent homebred herd currently has one Excellent 96, three Excellent 95, 20 Multiple Excellent, 23 Excellent, 105 Very Good, and 42 Good Plus cows. The family has also had several well-known animals emerge from their herd, such as Jacobs Goldwyn Britany, Excellent 96; Goldwyn Valana, Excellent 95; Jacobs Atwood Vedette, Excellent 95; and Jacobs Fever Cael, Excellent 95.
Other important honors at World Dairy Expo include winning Grand Champion Bred and Owned in both 2014 and 2015, and taking home the Supreme Champion honors in 2013. They bred the 2015 Intermediate Champion and bred and owned the 2014 Reserve Intermediate Champion. Throughout the years, Ferme Jacobs has also secured 81 All-Canadian and 44 All-American nominations, a feat that only a few have accomplished. The total of 125 nominations has resulted in 16 All-Canadian and 12 All-American awards, as well as numerous reserve and honorable mention titles.
Working at Ferme Jacobs is a family affair. Currently, 10 people work full time at the farm, most of who are family members, along with interns. Jean and Marian's grandchildren also seem to share the passion for exhibiting high-quality cattle. The next generation at Ferme Jacobs can regularly be found leading heifers or practicing their judging skills in the show barn. It is clear that the grandchildren at Ferme Jacobs are passionate about success and top-notch cattle, just like their parents and grandparents before them.
Past winners of the Robert "Whitey" McKown Master Breeder include: Walk-Era, Wisconsin Dells, Wis., 2015; Pond View Farm, Danville, Vt., 2014; Quality Holsteins, Vaughan, Ontario, 2013; New Windsor Farm, New Windsor, Md., 2012; Moondale, Monona, Iowa, 2011; Snider Homestead, New Enterprise, Pa., 2010; and Windy Knoll View, Mercersburg, Pa., 2009.
The Robert "Whitey" McKown Memorial Breeder Award was made possible by the family and friends of the 1992 Honorary Klussendorf honoree. Whitey joined the Holstein World staff in 1956 and became widely respected as he traveled nationally and internationally, reporting on shows, sales, meetings, and other Holstein events. The 1987 National Dairy Shrine president also developed MooKown Holsteins in Belleville, N.Y. Whitey had a great admiration for the farmer breeder.
The Klussendorf Association, considered by many as the Hall of Fame for dairy cattle exhibitors, began in 1937 in memory of Arthur B. Klussendorf, who was considered to be an outstanding dairy cattle showman of his time. Each year, the Klussendorf Association votes to add a new dairy cattle exhibitor to its ranks with lifetime membership for their cumulative work, including ability, character, endeavor, and sportsmanship.
Recognized as the meeting place for the global dairy industry, World Dairy Expo attracts more than 70,000 attendees from over 90 countries to Madison, Wis. each year. The annual event will take place October 4–8, 2016, with the theme of "Celebrate 50!" to commemorate its golden anniversary.
---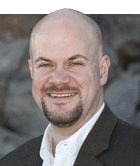 Corey Geiger
The author is the managing editor, and he brings 19 years of industry leadership to our readers overseeing all editorial content and production of the magazine. His degree from the University of Wisconsin-Madison combined dairy science and agricultural economics.