Grand Champion Red & White
Pheasant Echos Turvy-Red was the winning 5-year-old, Senior Champion, Grand Champion, and Best Bred and Owned of the Red & White Show. Maryland's Kenny Stambaugh is the breeder, owner and exhibitor of this KHW Advent-Red-ET daughter.
Intermediate and Reserve Grand Champion went to Heatherstone Redhot-Red, the winning Junior 2-year-old, owned by Milk Source Genetics of Wisconsin. She is sired by Rainyridge Barnie-ET. Reserve Intermediate Champion was Underwood Dusk Jazz-Red, exhibited by Milk Source Genetics, Wisconsin. Milk Source was Premier Exhibitor and Premier Breeder of the cow classes.
The Junior Champion was Booth-Haven Lady In-Red-ET. She was bred and exhibited by siblings Cole, Ava, Campbell, and Royce Booth, Wisconsin, and won the Spring Yearling class. Reserve went to Greenlea Ad Annie-Red-ET, exhibited by Mike Heath and Mark and Will Iager of New York. Milk Source was Premier Exhibitor and Premier Breeder of the heifer classes.
A favorite class for breeders is Best Three Females. Jason Cleland of Wisconsin took top honors with two cows he exhibited and Cleland Advnt Alexia-Red-ET, the Reserve Senior Champion, who is owned by Golden Oaks, Illinois.
The Nasco International Type and Production Award was awarded to Cleland Advent Korie-Red-ET, owned by Minnesota's Arnie, Ashley, and Andy Gruenes.
Premier Sire was awarded to Apples Absolute-Red-ET. It was the first time he earned this honor, dethroning Advent-Red, who is a brother to Absolute's dam.
The Junior Show
Grand Champion of Red & White Junior Show
There were four very excited junior members when the Grand Champion of the International Red & White Show was announced. Milksource Dty Tammy-Red-ET was led by co-owner Dawson Nickels and joined his sister Kylie and Grady and Lane Wendorf of Wisconsin in the winner's circle.
Reserve Grand and Intermediate Champion honors went to Chase Savage of Maryland with Redtag Destry Sneezy-Red-ET
Junior Champion of the Junior Show went to Lyn-Vale Cherry Wine-Red, also owned by the Booth siblings. Reserve went to Del-Frie-Acres Ad Ruthy-Red. She is owned by Joseph Thomsen of New York.
Best Bred and Owned of the junior show went to Morgan Olbrich of Illinois with Holbric Action Chill-Red.
Judge Nathan Thomas judged 250 head in the International Red & White Show. He was assisted by Matt Templeton of Australia.
---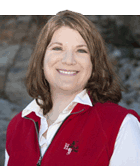 Patti Hurtgen
The author is the online media manager and is responsible for the website, webinars and social media. A graduate of Modesto Junior College and Fresno State, she was raised on a California dairy and frequently blogs on youth programs and consumer issues.