Supreme Champion of the Junior Show
It was Christian and Camille that walked away with Supreme Champion of the Junior Show under the spotlights of World Dairy Expo. Silvermaple Windhammer Camille-ET was the winning Senior Three-Year-Old in the International Junior Holstein Show. While led by co-exhibitor, Christian Cunningham, Camille is also owned with fellow junior Miles Price.
For Reserve, the judges selected the International Junior Brown Swiss Champion. Cutting Edge T Delilah was exhibited by New York's Kyle Barton. She was also a Senior Three-Year-Old.
Reserve Supreme Champion of the Junior Show
Other breed champions from the junior shows included:
Ayrshire:
Cedarcut Burdette Clove Colata, a 4-year-old cow
Exhibited by Erin Curtis-Szalach, New York


Guernsey:
Knapps Regis Tambourine-ET, an aged cow
Exhibited by Austin and Landen Knapp, Iowa


Jersey:
Red Rock View Cari, a 4-year-old cow
Exhibited by Cora Carpenter, Wisconsin


Milking Shorthorn:
Maple Fudge of 12 Oaks, a junior two-year-old cow
Exhibited by Ashley Brandel and Carley Krull, Wisconsin


Red & White:
Milksource Dty Tammy-Red-ET, a 4-year-old
Exhibited by Dawson and Kylie Nickel and Grady and Lane Wendorf, Wisconsin
---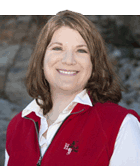 Patti Hurtgen
The author is the online media manager and is responsible for the website, webinars, and social media. A graduate of Modesto Junior College and Fresno State, she was raised on a California dairy and frequently blogs on youth programs and consumer issues.