The presentation began with an overview of the forage situation. In 2016, there was a summer drought in the west and northeast sections of the U.S. (and Canada). Heavy fall rains came during corn chopping and combining in the Midwest. Still, big crops for corn grain and silage, canola, and soybeans are expected.
Based on current conditions, webinar attendees polled thought they would feed more corn silage, more grain, and/or more grass this year. The most popular choice was to feed more corn silage with the year's crop looking plentiful.
Rankin shared some market updates. Alfalfa hay inventory (of all quality types) has rebounded from a low in 2013 (due mainly to widespread drought in 2012). Inventories are now where they were 10 years ago. The USDA August hay price peaked at over $200 per ton in 2014 and is now settling in about $138 per ton. Keep in mind, this is an average of all types of alfalfa quality, from fair to supreme.
Many dairy farmers have an adequate inventory of hay, which is keeping hay prices from escalating drastically. The milk price has also dampened sales of forage. California dairies are feeding less hay per cow than they did five years ago. The ability of farmers to purchase feed still hinges on the price of milk. Unfortunately, the dairy product export market is soft, meaning lower milk prices than the record levels of just a few years ago.
China has continued to be a big importer of U.S. alfalfa, but is requiring imports to be non-GMO produced – eliminating Roundup Ready and transgenic reduced-lignin varieties. Japan used to be a lead buyer of U.S. hay, but their purchases have flattened. Saudia Arabia continues to import U.S. hay, but also is buying land in Arizona and California to produce hay and export it back to their own country.
Hutjens provided several charts depicting the lab analyses of 2016 forages and compared them to a 5-year average for both haylage and corn silage. Overall, forage quality looks better than average. Hutjens warned listeners to watch for drought-stressed corn with high-nitrate levels and for the presence of mycotoxins caused by extended wet conditions this fall.
If purchasing corn silage, Hutjens recommends buying on a dry matter basis and adjusting for starch levels (use 30 percent as a base). There are some warning signs to watch for in silage and grain this year. Sprouted corn grain in the field may result from ears that did tip down and diplodia-damaged grain can lead to dockage with its discoloration. Various mycotoxin level reports were shared – showing how the 2016 crop is faring compared to safe levels.
As with any feed ration formulation, Hutjens encourages nutritionists and producers to evaluate feed ingredients on a cost versus nutrient basis. He uses FeedVal v6.0 to determine if a feed is worth the investment.
"Forage quality is looking good, but there are lots of variables to consider, including regions and cutting differences. Forages will be pretty economical," concluded Hutjens.
The webinar was sponsored by Zinpro (www.zinpro.com) and is archived here.
---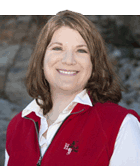 The author is the online media manager and is responsible for the website, webinars and social media. A graduate of Modesto Junior College and Fresno State, she was raised on a California dairy and frequently blogs on youth programs and consumer issues.