Some would say that I have been rocking the boat since childhood. And they'd be correct. At the early age of exactly 3 years 9 months, I was challenging the establishment. And it is a habit (a bad one some would claim) that I continue to exercise to this day.
When I was 11 years old, I was exhibiting at our state Holstein show. I had done well with my three homebred cows. At the end of the show, the officials were calculating the Premier Breeder of the Junior Show. They announced another junior exhibitor as the winner.
I was a bit bummed.
I went home and looked through the show program. The winner did not have any animals bred by them. The officials at the table thought the prefix on several of the winner's animals was from the young lady since it contained the starting letters of her first and last name, but she had purchased them from an out-of-state breeder. The state Holstein office was later contacted and they looked into the calculations. The trophy was presented to me later that month at Cow Camp. While not as cool as having it announced the day of the show, at least the record was corrected.
Each year, three statewide FFA Dairy Judging contests were held, leading up to state finals. At a contest, I dropped only a few points and thought I did okay on my oral reasons. Our chapter headed to the school gym for the announcement of all the FFA contest winners — the top five individuals and teams in all the disciplines.
My name was not called, but as soon as the contest was over, I wanted to see the book that contained all the scores. I gasped; they gave me an incorrect score on one of my class placing. I had been short-changed points, which would have put me in the top five. I double-checked my scores, and on Monday I made a call to the college professor who had organized the contest, asking him to check my placings card to see if I did mark the card as I believed I had.
A few days later, I got a letter in the mail, apologizing for the error in calculations, and a pink ribbon for my fifth-place performance. (I later chaired this judging contest when I attended the college.)
The same veracity that I took to reviewing my competitions applied to every test I took in high school and college. There were times when checking the teachers' math (and finding their math errors) changed my letter grade.
In college, a struggling classmate needed some tutoring in genetics class. He was a fellow dairy club officer and I loved genetics and knew I could help. After multiple study sessions, he had made real progress from his failing grade mid-semester, but he looked disappointed with his last exam score.
I reviewed his scored test and looked over the teacher's marks and notes. The professor did not count all of his correct answers, shorting him points. I told him to bring it to the teacher's attention and fight for the test grade he earned. At graduation, he thanked me and was so proud of the C he earned and received.
Do you look at your farm income, business invoices, or bills to check for accuracy? A study of hospital billing in 2014 found 49 percent of the Medicare medical claims had errors, leading to as much as 26.4 percent overpayment from patients.
Imagine an incorrect number on your milk tank pickup, an extra digit on a bill, an unusual charge on a credit card statement. Are you checking for these oversights? I have caught errors on my grocery bill receipt (20 percent) and double charges on my credit cards. They are promptly dealt with.
If you were taught to just accept everything at face value, and never challenge, you could be costing yourself more than a grade, trophy, or ribbon . . . but your very own hard-earned cash.
---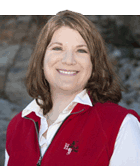 The author is the online media manager and is responsible for the website, webinars and social media. A graduate of Modesto Junior College and Fresno State, she was raised on a California dairy and frequently blogs on youth programs and consumer issues.
---