And the winner is . . . The Holstein! Although the Jersey Grand Champion, Musqie Iatola Martha-ET took home Supreme Champion honors at the 50th World Dairy Expo, our readers found the image of Reserve Supreme Champion, Sheeknoll Durham Arrow to be the coolest cover.
In a special project to highlight the Grand Champions of World Dairy Expo, Hoard's Dairyman produced seven different covers for the October 25 issue. The issues with the various cover girls were randomly mailed to subscribers, so readers were not preselected as to which breed cover they would receive.
In addition to print, we shared the covers on our social media channels and invited viewers to vote for their favorite breed cover on our website.
After the results were tallied, the Holstein, Sheeknoll Durham Arrow claimed just under half of the total votes with 48 percent. This Holstein, affectionately known as "Thomas," had a huge following during the show in Madison and online after Expo if our survey is any indication.
The Supreme Champion of Expo, Musqie Iatola Martha-ET, was the easy second-place winner with 20 percent of all votes.
Following the second-place Jersey, all five of the other breeds amassed votes in the single digits, and were only separated by three percentage points among them all.
Each voting device could only vote once, so there could be no ballot box stuffing. Once viewers voted, they could then see the current vote distribution.
To view all seven covers, see page 635 of the October 25, issue or check out the blog,
Seven covers for seven champions
.
Highlights of World Dairy Expo can be found on our website year-round at hoards.com, under our Hoard's at Expo blog.
If you didn't get your favorite in the mail, single copies of the October 25 issue can be ordered directly from our offices at 920-563-5551.
---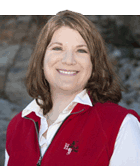 The author is the online media manager and is responsible for the website, webinars, and social media. A graduate of Modesto Junior College and Fresno State, she was raised on a California dairy and frequently blogs on youth programs and consumer issues.