Terry Howard
A man tall in stature and high in principles. Terry Howard was well-respected in the dairy industry for his nearly 30-year career as a Wisconsin extension dairy specialist, with a focus on feeding and nutrition, and his commitment to developing World Dairy Expo.
Most notably, Howard served World Dairy Expo as the dairy cattle superintendent from 1989 to 2006. His time with Expo began when the University of Wisconsin-Madison volunteered its staff to an upstart show. He also served more than 25 years on the World Dairy Expo Board of Directors. His roles evolved over time, and Howard's name and World Dairy Expo are forever intertwined.
As a volunteer, his talent lied in understanding people and their skills. "Terry looked for people who worked well together and married them up; he found help for the breed superintendents when they needed it. Terry commanded attention and respect by both his formidable physical stature and his professional appearance," shared Bob Kaiser of Howard's ability to work with and blend the talents of many volunteers. Kaiser followed Howard as overall breed superintendent.
He tackled the tough issues . . . particularly ethics in the showring.
During his tenure, milk sample testing, ultrasounding udders, and minimizing topline hair length were changing the look and feel of cattle exhibitions. He held firm to the rules and guidelines set forth by show management and the Purebred Dairy Cattle Association (PDCA).
"It took a while for people to understand that we weren't conducting ethics efforts to find people to punish. We were doing it to protect the integrity of the show and the winners. There was a time during which quite a few people in the industry believed that every one of the winners was dirty," said Howard in an interview for We Need a Show, Expo's 50th Anniversary book.
But it wasn't all about the rules and regulations. He knew the special place bovines hold in many of our hearts. "I realize the cow show doesn't have a lot to do with the real-world dairy industry, but that doesn't stop us from getting great enjoyment from looking at beautiful cows," Howard explained to the book's writers. He understood.
Howard passed away on Sunday, February 26, but his 80 years on this earth left a lasting mark on Wisconsin's dairy industry and beyond. His commitment to World Dairy Expo followed only his dedication to his family – married to Karen for 56 years and parents to three children and five grandchildren. A lifetime of dedication to everyone and everything he loved.
"When you get around people who have this lifetime commitment to cows, the show, and the dairy industry, it rubs off a bit; it inspires us to think that what we are doing is valuable," reflected Howard.
Thank you, Terry, for your valuable contributions to the dairy industry.
---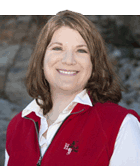 Patti Hurtgen
The author is the online media manager and is responsible for the website, webinars, and social media. A graduate of Modesto Junior College and Fresno State, she was raised on a California dairy and frequently blogs on youth programs and consumer issues.