It took my pal just one minute to call this past weekend to see if I could leave the farm to go horseback riding with him and his daughter. It took me only a minute to call my herdsman and ask if all was running fine on this beautiful Georgia day at the dairy. It was, so in that moment I decided to go.
It took just a few minutes to hook the dually truck to horse trailer, load my horse, and whistle for my Blue Heeler dog to load up with us. Then down I-20 we rolled toward a state park that I like with horse trails.
Forty minutes later I turn off the freeway onto a country road in the middle of nowhere. Thirty seconds from the freeway, climbing the first hill on that road, a truck suddenly crossed the yellow centerline and swerved into the path of my vehicle.
In that moment I twisted the steering wheel to the right to avoid hitting him head on. The truck destroyed my side mirror, hit my rear truck wheels, and ripped the axles from underneath the horse trailer.
I managed to stop my truck and trailer. I jumped out to see that my trailer was still attached to the truck but leaning in a ditch. I saw my horse was standing up but pretty upset about his predicament. The worst thing about that moment was seeing that the vehicle that had struck us had rolled many times after hitting my truck and was destroyed.
I saw a young man walking toward me. He was mumbling that he must have fallen asleep at the wheel for just a moment.
Luckily, the young driver along with his passenger buddy and myself had all taken a moment to put on our seatbelts before leaving that day. I wish the young guys had taken a moment to consider they had partied too hard the night before and still had alcohol in their systems before they left.
In that next moment, on the side of a country road, I realized I was grateful and not angry. My dog, horse, and myself were shaken up a bit but were fine otherwise. These two young men would be in trouble but walked away from a wreck that should have been far more tragic.
A quote from Tony Robbins that I like is, "It is in your moments of decision that your destiny is shaped." I pray these two young men learned a lesson and go on to live a life filled with great moments. As for myself, I think I will try to remember to wear my seatbelt for the half-mile trip from the house to the dairy from now on . . . even though it is a country road in the middle of nowhere.
---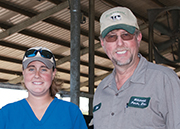 Mark and Caitlin Rodgers are dairy farmers in Dearing, Georgia. Their "Father and Daughter Dairy Together" column appears every other Thursday on HD Notebook. The Rodgers have a 400-cow dairy that averages 32,000 pounds of milk. Follow their family farm on Facebook at Hillcrest Farms Inc.