Sometimes the reactions I get when I tell people how often I go home on the weekends while attending college full time are surprising. When I tell them that I live on a farm, they seem to understand a bit more. However, I know that only those raised on a farm can empathize with my deep emotional connection to the cows and country roads I call home. Going home for the weekend has a different meaning for farm kids.
There is just something special about the farm where a child spends the early years of their life. The memories created there during a childhood are priceless. Within these moments are thousands of learning opportunities that shape us into the individuals we are today.
I am fortunate to attend school only a few hours from my home. When the week at school is overwhelming with midterms, club meetings, dairy judging practices, and plenty of assignments, I decide to take a trip home. Often, I have a legitimate reason to go home, but recently I have realized I travel home for 48 hours to simply de-stress. Working the entire weekend might not seem like a relaxing way to catch up after a busy week at school or work. However, farm kids like myself may find this type of weekend to be the perfect solution.
Feeding a newborn calf reminds me of the patience it takes to master a project or skill. Checking on my show heifers as they are getting ready for the show season reminds me to strive for progress above perfection in all things I do. Most importantly, spending time with my cows is the best reminder of why I am studying dairy science in college.
The time spent with my family working on the farm holds some of the fondest memories from my childhood. These moments continue to shape me into the agricultural leader I am aiming to be. Spending time on our home farms is a great reminder to never forget the roots we came from.
---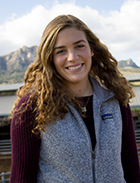 Elise Regusci grew up on her family's farm in Modesto, Calif. Regusci attends Cal Poly University, majoring in dairy science with an agricultural communication minor. On campus, she is the Los Lecheros Dairy Club Ag Council representative and a member of the Cal Poly dairy judging team. Regusci is the current Brown Swiss Youth Ambassador and will be the 2017 Hoard's Dairyman summer editorial intern.