Today is World Milk Day. Launched in 2001 by the United Nations' Food and Agriculture Organization, its intent is to recognize milk as a global food. Dairy farmers, children, allied industry professionals, and our dairy publication staff are all raising a glass of milk to celebrate this special day.
Regardless if it is whole, low-fat, skim, or flavored, an ice-cold glass of milk quenches a thirst. Just this past weekend Takuma Sato drank two-percent milk to celebrate his victory in the Indianapolis 500 Race.
World Milk Day kicks off June Dairy Month promotions and coincides with Dairy Management Inc's recent release of the Undeniably Dairy campaign. This DMI program promotes all dairy products and the joy they bring to people. It's a theme that we can endorse and certainly support. Read more about this national promotion in the recent blog, "Undeniably Dairy."
Share an image of that glass of milk and your healthy smile today. Don't forget to tag it #WorldMilkDay and #UndeniablyDairy on your social media channels. Cheers!
Learn more about World Milk Day's international exposure visit www.worldmilkday2017.com and check out the United Nation's webpage with events and history.
---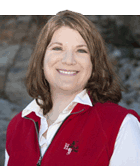 The author is the online media manager and is responsible for the website, webinars, and social media. A graduate of Modesto Junior College and Fresno State, she was raised on a California dairy and frequently blogs on youth programs and consumer issues.