That was a familiar phase heard repeatedly on Wednesday as youth requested categories and points from the giant Dairy Jeopardy board. That particular category covered getting calves off to a great start and what things are done to makes sure young animals are healthy and growing properly.
The National Dairy Jeopardy contest was held in Bellevue, Wash., at the National Holstein Convention. There were three age divisions that competed on Wednesday to a full banquet room of parents, coaches, and spectators. The Holstein Foundation sponsors the program.
Just like the name implies, the contest is conducted like the television game show. The difference is that up to six youth can be contestants at one time rather than just three. And, all of the question relate to the dairy industry, Holstein programs, dairy products, and so forth. Categories included calf care, farm management, and genetics.
Youth from Washington to Florida, California to New England, and everywhere in between competed.
The morning started at 7 a.m. with the senior contestants. In a definite two-horse race, a pair of young men qualified for the finals. The top six contestants with positive scores advance to Final Jeopardy. These two dominated and no other senior contestants had positive scores to advance. Jordan Siemers from Wisconsin, a student at Cornell University in New York, topped the senior contest. Douglas Boop of Pennsylvania, a Penn State student, placed second.
There were seven matches through three rounds in the intermediate division, and it was a battle of the coasts. California's Mackenzie Elmer outdistanced herself from Maryland's Todd Allen by 200 points to place first. Both correctly answered the question regarding long-day lighting, knowing that it provides 16 to 18 hours of light exposure per day. Daniel Clapp of Massachusetts placed third.
It was a drawn-out event to get a junior winner named. Five tiebreakers were needed to determine the winner. Tiebreakers covered milking, dairy goats, and Holstein programs. In the end, Florida's Jenna Larson topped the largest division of the day. She edged Jordan Anderson from Pennsylvania. Third place went to Louis Hamlett from Iowa.
Youth will continue in various competitions this week including speech, educational display, and dairy bowl, showcasing the knowledge they have learned through their dairy projects.
---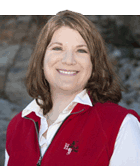 The author is the online media manager and is responsible for the website, webinars, and social media. A graduate of Modesto Junior College and Fresno State, she was raised on a California dairy and frequently blogs on youth programs and consumer issues.