The end of summer is often signified in one big event for those of us in the livestock world…state fair.
It is a time of fellowship and camaraderie based on the love of exhibiting our best cows. The state fair is highly anticipated and steeped in tradition. It's our last hoorah of summer vacation, although it rarely feels like a vacation with the exhausting schedule.
The last two years we've stepped out of the shoes of exhibitors due to our full schedules on the farm. I am honestly missing the experience and especially my fair family, but stepping into the role of simply being an attendee gives me a new perspective.
In talking with nonfarm friends, their number one enjoyment in visiting the fair is the animals. We truly have a captive audience in the people who are walking the aisles. I think it is important to remember these people are our consumers, and take advantage of the opportunity to engage with them.
Just even a friendly smile and hello in the downtime while you're watching your animals go a long way in leaving a favorable impression. After all, it's not every day they get to meet a dairy farmer. I also enjoy listening to the conversations around me while I'm on the fairgrounds and chiming in when the opportunities present themselves.
Those conversations don't need to be elaborate, and the information presented in the most basic form is beneficial. Some of the questions always seem so far out there, but that should serve as a reminder of how far removed the average person is from our daily life.
Engaging with fairgoers when we have their attention, in a setting where we are already present, can leave just as big of a lasting impression as getting more consumers on our farms. People attend the state fair for the experience, how great is it that we, as dairy farmers, can be a part of that. Don't miss out on the opportunity!
---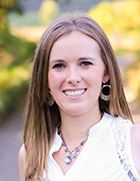 The author is a third-generation dairy farmer from Oregon where she farms in partnership with her husband and parents. As a mother of two young boys who round out the family run operation as micro managers, Darleen blogs about the three generations of her family working together at Guernsey Dairy Mama. Abiqua Acres Mann's Guernsey Dairy is currently home to 90 registered Guernseys and is in the process of transitioning to a robotic milking system.
---
Join us next week
The webinar "Management approaches to minimize nutrition-related health and production issues" will be held on Monday, September 11, at noon (Central time).
Cow health and productivity can suffer based on the performance of a dairy nutrition program being compromised. Managers can enhance production and improve cow well-being by implementing nutritional protocols. Join us as Diamond V's Bill Stone presents the webinar. The September webinar is sponsored by Kuhn. Register at www.hoards.com/webinars.