Premier Sire of the entire show was Apples Absolute-Red-ET, Premier Sire of the Heifer Show was Mr D Apple Diamondback, Premier Breeder was Apple Partners, and the Grand Champion was sired by Absolute. The "Apple" we are talking about is KHW Regiment Apple-Red-ET, a previous Grand Champion at the International Red & White Show and successful brood cow.
The sweetest Apple in the basket was Meadow Green Abso Fanny-Red, the winning Aged Cow. In addition to being named Grand Champion of the International Red & White Show, she also was awarded Best Udder of Show. She is owned by Triple-T Holsteins, Mike Berry, Frank and Carol Borba, and Frank and Diane Borba. Fanny-Red is housed in Ohio at Triple-T Holsteins, but Fanny's offspring are located in both California and Ohio.
The Intermediate and Reserve Grand Champion was Heatherstone Redhot-Red owned by Milk Source of Wisconsin. Redhot's dam is sired by Apple's brother, KHW Kite Advent-Red-ET.
Reserve Intermediate Champion was won by Miss Pottsdale Dfi Tang-Red. This Senior 3-year-old is owned by Golden Oaks Farm of Illinois. Tang's granddam was sired by Advent-Red.
The Reserve Senior Champion was Miss Apple Snapple-Red-ET, also owned by Milk Source. Snapple is a Redburst from the original Apple. She topped the 4-year-old-class.
Champion Bred and Owned went to Parkvue Absolute Rap-ET, owned by Jason and Jordan Thomas and Adam Liddle of New York.
Junior Champion was Greenlea Ad Annie-Red-ET. This Winter Yearling is owned by Michael Heath and cousins, Will and Mark Iager in Maryland. Her dam is an Advent daughter. Reserve Junior Champion was Ms-AOL DB Raspberry-Red-ET. Jaydyn Kimball of Maine owns the winning Fall Calf, who is sired by Mr D Apple Diamondback. Raspberry also claimed Junior Champion of the Junior Show.
Premier Exhibitor was awarded to brothers, Grady and Lane Wendorf of Wisconsin. These junior exhibitors had a great day, including Reserve Grand Champion of the Junior Show with Milksource Dty Tammy-Red-ET, the winning 5-year-old. Tammy's dam is sired by Advent. They also had Reserve Junior Champion of the Junior Show with Cleland Defiant Kailene-Red, an Advent granddaugher.
Champion Bred and Owned of the Show was awarded to Britney Hill of Vermont. This Redburst daughter is from an Advent dam.
Grand Champion of the International Red & White Junior Show was Redtag Destry Sneezy-Red-ET. Sneezy is owned by Chase Savage of Maryand and is the only Champion without Apple in her DNA.
Chad Ryan was the lead judge and was assisted by Brian Kelroy, together they placed 262 Red & White entries.
---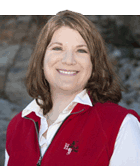 The author is the online media manager and is responsible for the website, webinars, and social media. A graduate of Modesto Junior College and Fresno State, she was raised on a California dairy and frequently blogs on youth programs and consumer issues.