Mr Frazzled Aristocrat-ET was not on the Expo grounds, but his presence was made known as he became the highest selling animal at any World Dairy Expo sale. This high genomic, three-month-old bull boasts a GTPI of +2921 and is the No.13 GTPI bull of the Holstein breed. He is sired by Melarry Josuper Frazzled-ET was purchased by Diamond Genetics of the Netherlands for $620,000.
Second high seller was Leaninghouse Mdsty 23039-ET. She was the consignment of Rock Hill Dairy LLC of New Mexico and was purchased by De Novo Genetics of Wisconsin. This daughter of Bacon-Hill Pety Modesty-ET has a GTPI of +2871 and an impressive +114 PTA Fat. She commanded a price of $205,000.
Wa-Del Modesty Bobbi Jo-ET was the third high seller. She sold for $105,000. Wa-Del Holsteins of Pennsylvania consigned her and Sexing Technologies of Texas selected her to join their breeding establishment. Bobbi Jo is a paternal sister to the second high seller and is from 11 generations of Very Good and Excellent dams and sports a +2891 GTPI.
Lot 1 and her dam enter the arena on a red carpet and stand center stage at the sale
World Dairy Expo
Fifty-one lots sold on the Coliseum stage, averaging $41,469 per head. The World Classic 2017 grossed over $2.1 million. Buyers from 16 different states and three Canadian provinces were represented at the 2017 edition of this World Dairy Expo tradition.
Tom Morris Ltd. Managed the 2017 World Classic sale and several lots were purchased online via the live sale broadcast.
---
The Guernsey Edition of the Fall for Colors at the International Guernsey Classic was also managed by Tom Morris Ltd and hosted by Hillpoint, Mike and Linda Hellenbrand of Wisconsin, and Guernsey Grove Farms, Dan and Jean Basse of Illinois. Thirty-four live lots averaged $3,733 and the embryo lots averaged $715 per embryo. Buyers came from 11 states and three countries.
The high seller was Nicleys HO GG Corbell Anne-ETV. Hillpoint, Basse, and Miller consigned her and Westcoast Holsteins of British Columbia, Canada purchased her for $9,100.
Sniders HP GG Lonestr Amazing-ETV sold for $8,500 and was the selection of the Amazing Syndicate of Chicago, Ill. She was consigned by Hillpoint,Wis.; Snider Homestead, Penn.; and Basse, Ill.
Third high seller was a five-embryo package from Springhill Farm in Ohio. It included embryos (by a mutually agreeable sire) from Springhill Mentor Jazzy-ET, the 2017 Grand Champion Guernsey of World Dairy Expo. Each embryo sold for $1,550 and was purchased by Jim Woloohojian of Vermont.
---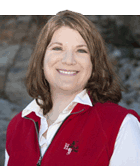 Patti Hurtgen
The author is the online media manager and is responsible for the website, webinars, and social media. A graduate of Modesto Junior College and Fresno State, she was raised on a California dairy and frequently blogs on youth programs and consumer issues.