The end of January (and sometimes in early February) people gather around their television sets on Sunday to watch the National Football League's championship game – the Super Bowl. Others less interested in the sport, are at least entertained with the commercials that interrupt the game on the field.
As Minneapolis hosts the big game this year in its one-year-old U.S. Bank Stadium, Minnesota-based Land O'Lakes wanted an opportunity to promote agriculture around this high-exposure event.
On the Thursday before the game, February 1, Farm Bowl will debut. There will be teams consisting of one Land O'Lakes member-owner and a professional (or retired) NFL player. They will endure simulated on-farm challenges.
The six farmer-owners that will be representing Land O'Lakes are Katie Dotterer, Cow Comfort Inn, Union Bridge, Md.; Darin Johnson, Johnson Farms, Wells, Minn.; Amber Horn-Leiterman, Hornstead Dairy, Brillion, Wis.; Dave Ribeiro, Rib Arrow Dairy, Tulare, Calif.; JJ Nunes, Nunes and Sons Dairy, Tulare, Calif.; and Craig Roerick, Roerview Dairy, Swanville, Minn.
Final NFL participants have not been finalized as four teams still remain in the playoffs, including the home-team Minnesota Vikings who have pledged its tight end Kyle Rudolph to the event. However, should the Vikings make the Super Bowl, Rudolph will be otherwise preoccupied.
Other confirmed NFL players include Hall of Famer Jerome "The Bus" Bettis of the Pittsburgh Steelers and former Green Bay Packer Greg Jennings. Previous Ravens/Rams center, and now full-time farmer, Jason Brown, will showcase the skills he has been perfecting since retiring from football.
The challenge activities are intended to have a light-hearted approach, yet are still based in real-world situations. The skills of strength, endurance, intelligence, and coordination are needed in both professions and will be on display during the competition. Events include:
Tire competition: The two-person teams will have to move large tractor tires and correctly put the new tire on the machinery. The task will be completed when the proper torque and specifications are met. It is about speed, strength, and accuracy.
Bale moving: They will have to load and stack 10 bales onto a trailer and maneuver the trailer in reverse.
Drone navigation: As technology is a growing component of agriculture, the next task will have the teams operate a drone. They will drop colored bean bags into specified target zones.
Milk line assembly: More specific to dairy, there will be a milk pipeline puzzle competition. Contestants will have to assemble a pipeline – but with a catch. Not all of the pieces fit with each other in the same manner. Now, that will be real-life that many of us are used to.
The concluding event will be carrying 500 pounds of feed with sheer strength across the finish line.
The Farm Bowl will be held on Thursday, February 1, 2018, at 3M Arena at Mariucci, Minneapolis, Minn., home to the University of Minnesota men's hockey team. It should be entertaining to see how these agricultural challenges are tackled.
---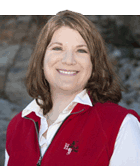 Patti Hurtgen
The author is the online media manager and is responsible for the website, webinars, and social media. A graduate of Modesto Junior College and Fresno State, she was raised on a California dairy and frequently blogs on youth programs and consumer issues.