If you're on social media, hopefully by now you've seen what we hope will be the next big thing to sweep the dairy industry. Let me start from the beginning.
For the last month or so, I've been getting plenty of questions from my nonfarming friends asking me why the media keeps reporting about low milk prices and high suicide rates among dairy farmers. Every time someone asks me, I feel like I lose a little more hope for this industry.
No matter how truthful, it's not exactly the kind of press we need. So last week, Katie Pyle of Cow Comfort Inn Dairy, posted a video of herself dancing and lip-syncing to her favorite song in her calf barn. My brother and I promptly responded with a funny video of our own, challenging her to dance battle. Just as I pressed send, an idea hit me. I immediately sent her a text and an idea became a plan.
We want to change the media tides. We have started a movement with a goal of showing the world that no matter how hard times get, dairy farmers can and will always find the fun and passion in what we do. So, we picked a song, created a hashtag, busted a move, and filmed it.
Guys, we're not asking for much. You don't have to be a good dancer, although Katie is, you don't even actually have to dance. Pick a fun, upbeat song that you love and just lip-sync to it if you want. If you choose to participate, because you should, post it on social media using #DairyDanceOff and add a sentence or two about why you love what you do. Then, challenge or tag a few friends to do the same. Let's face it, dairy farming isn't all fun and games, but that doesn't mean we can't have a little fun while we're doing it.
---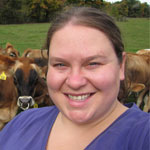 The author dairies in partnership with her parents and brother at Spruce Row Farm in Pennsylvania. Jessica is a graduate of Pennsylvania State University, and since 2015, she has been active in promoting dairy in her local community. You can find her and her 250 Jersey cows on Facebook at Spruce Row Dairy or on Instagram at @seejessfarm.